A Franchise Consultant
The Franchise Consultant earns significant income by helping franchise buyers identify the franchise that best fits their requirements and capabilities while helping franchise sellers find qualified buyers. Comprehensive training, support and leads provided. Rated the #1 home based business.
---
| | | | |
| --- | --- | --- | --- |
| Cash Investment: | $9,500 | Investment Range: | $9,500 |
| Franchise Fees: | $9,500 | Training & Support: | Yes |
| Franchise Units: | n/a | Financing Available: | Yes |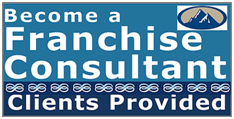 Clients Provided - Home Based - No Royalties
Become a Franchise Consultant and have the opportunity to own and operate a business that provides the personal satisfaction and financial rewards that comes from helping franchise buyers identify the franchise that best fits their requirements and capabilities while helping franchise sellers find qualified buyers.

There is no selling in this business but you will provide consulting and coaching services helping your clients make the best possible decision on which franchise is best for them plus provide assistance through the evaluation process. When your client buys the franchise you will be paid a very substantial referral fee.
No franchise experience is necessary for you will learn everything required to have a successful business through the comprehensive training and support provided.

The number of people looking to buy a franchised business is increasing and this highly profitable business provides an outstanding opportunity to capitalize on that trend.
You would utilize the knowledge, the systems and the relationships that we've developed in over 25 years of industry experience to help you start and grow a profitable business including:
New Consultant Certification Training

On-going Professional Development Training

Personal Coaching and Mentoring

Marketing and Lead Generation Support – Leads Provided

Financing Sources for your Clients

Professional Website and Landing Pages

Lead Management System

Consultant Support Center – Provides all Tools, Forms, and Resources

An Existing Portfolio of over 500 Franchised Businesses to Represent

Being a Franchise Consultant is for people who don't want the time and financial commitments required of a typical business, but instead are looking for a lower investment, more flexibility, a faster return on investment and a higher income than you will find in other businesses.
This is an excellent opportunity to have a business that is experiencing incredible growth with unlimited income potential.

People Who Viewed A Franchise Consultant Also Submitted for These Franchises
Browse Related Franchises by Industry
Please Note: This A Franchise Consultant advertisement, and all other franchise opportunities, franchises for sale, business opportunities, businesses for sale, franchise financing providers, and other advertisements on this website should not be considered an offering or solicitation, and they are not recommended, endorsed, or approved in any way by FranchiseClique.com. All listings and advertisements on this website are submitted to Franchise Clique by the franchise, business opportunity, business for sale or other advertiser, and that information is relied entirely on for the truthfulness and accuracy of the information provided. Franchise Clique has no stake in these companies, and have not independently verified any of the information submitted, no responsibility for its accuracy or completeness is assumed by Franchise Clique. Persons submitting the inquiry form are under no obligation to purchase or otherwise utilize any services offered, they are simply requesting more information on the franchises or business opportunities listed. Please review the full advertisement before responding.
Submit Now to Get a FREE eBook - Read More
Transitioning from Employee to Entrepreneur
"
... a step-by-step guide to help you make the transition from the employee culture to that of the entrepreneurial world. This book is a complete toolkit and user's guide for success for everyone who dreams of starting his or her own business.
"
Receive FREE Franchise Info
About A Franchise Consultant
Selected Companies:
Loading request list...