ARCO-ampm Convenience Stores
ARCO and ampm are iconic industry brands in the petroleum and convenience store franchise industries with over 925 locations in five states.
---
| | | | |
| --- | --- | --- | --- |
| Cash Investment: | $9,500 | Investment Range: | $9,500 |
| Franchise Fees: | $1,500 | Training & Support: | Yes |
| Franchise Units: | 90 | Financing Available: | Yes |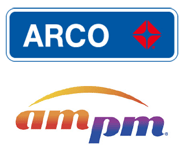 ARCO - Making Millions Of People Feel Good While On The Move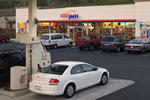 ARCO and ampm are iconic industry brands with over 925 locations in five western states. The ampm convenience stores offer nearly 2,200 different products. Together, ARCO and ampm sites serve about 24 million customers per month.
With over 25 years of operating experience, advanced systems and training solutions, we set the standard for quality, brand recognition and leadership within the petroleum and convenience store franchise industry.
ampm - A Brand That Stands Apart
With ampm you get a thoroughly distinctive brand, a history of success, comprehensive support for your business and award-winning marketing support. The ampm brand has meaning to its customers - it has established itself as part of the west coast's culture.
Franchise Management And Employee Training
We offer some of the most comprehensive and thorough training in the franchise industry. We train new franchisees in all the key business categories necessary to help you become a successful ampm franchise operator. The program includes everything from gasoline marketing and customer service, to food safety and inventory control.
Becoming an ampm mini market franchisee is a serious commitment; however, the rewards are immeasurable:
Instant Brand Awareness

Strong And Stable, World Corporate Leader

25 + Years Of Achievement And Industry Recognition

Customer Focused, Performance Driven Business Model

Corporate Support With A Successful History of Building Business

Access To Our Worldwide Network

Award Winning Marketing And Advertising Programs

Continuing Education Through Training Programs
Potential Markets
The ARCO gasoline and ampm franchise opportunity is available in the Western Region encompassing the states of CA, WA, AZ, OR and NV.
What Do We Look For In A Franchisee?
We are seeking business people with a passion for quality and service. We are committed to building upon our position as the leader in the Petroleum Convenience Store industry.
We invite you to reap the benefits of our success.
None of the communications made through this web page should be construed as an offer to sell any am/pm mini market franchise in, nor is any such communication directed to, the residents of any jurisdiction requiring registration of the franchise before it is offered and sold in that jurisdiction.
No ampm mini market franchises will be sold to any resident of any such jurisdiction until the offering has been exempted from the requirements of, or duly registered in and declared effective by, such jurisdiction and the required Uniform Franchise Offering Circular (if any) has been delivered to the prospective franchisee before the sale in compliance with applicable law. If you have any questions concerning the registration status of an ampm mini market franchises in your jurisdiction, please fill in the Franchise Clique inquiry form.
The materials on the Site describe BP's franchise offering. If you wish to be considered, we ask that you please complete and submit an expression of interest via our Franchise Inquiry Form. Neither this web site, nor your submission of an expression of interest, constitute an offer to sell or to purchase a franchise, nor shall it create any contractual or other obligation to one another.
Please note this franchise is only accepting inquiries from AZ, CA, NV, OR and WA and does not accept inquiries from outside the United States. Interested parties should have at least $750,000 to invest.
People Who Viewed ARCO-ampm Convenience Stores Also Submitted for These Franchises
Browse Related Franchises by Industry
Please Note: This ARCO-ampm Convenience Stores advertisement, and all other franchise opportunities, franchises for sale, business opportunities, businesses for sale, franchise financing providers, and other advertisements on this website should not be considered an offering or solicitation, and they are not recommended, endorsed, or approved in any way by FranchiseClique.com. All listings and advertisements on this website are submitted to Franchise Clique by the franchise, business opportunity, business for sale or other advertiser, and that information is relied entirely on for the truthfulness and accuracy of the information provided. Franchise Clique has no stake in these companies, and have not independently verified any of the information submitted, no responsibility for its accuracy or completeness is assumed by Franchise Clique. Persons submitting the inquiry form are under no obligation to purchase or otherwise utilize any services offered, they are simply requesting more information on the franchises or business opportunities listed. Please review the full advertisement before responding.
Submit Now to Get a FREE eBook - Read More
Transitioning from Employee to Entrepreneur
"
... a step-by-step guide to help you make the transition from the employee culture to that of the entrepreneurial world. This book is a complete toolkit and user's guide for success for everyone who dreams of starting his or her own business.
"
Receive FREE Franchise Info
About ARCO-ampm Convenience Stores
Selected Companies:
Loading request list...