Big Frog Custom T-Shirts
Big Frog Custom T-Shirts is a retail franchise specializing in custom-made T-shirts and apparel.
---
| | | | |
| --- | --- | --- | --- |
| Cash Investment: | $9,950 | Investment Range: | $9,950 |
| Franchise Fees: | n/a | Training & Support: | Yes |
| Franchise Units: | n/a | Financing Available: | No |
About Us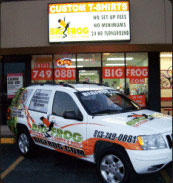 Big Frog Custom T-Shirts is a retail franchise specializing in custom-made T-shirts and apparel. Big Frog utilizes a cutting-edge, eco-friendly system that allows affordable customized printing in any quantity whether it's one or 100. With no setup charges, no screen charges and no art charges, even one shirt becomes affordable. And with great prices, comes great quality and real customer service. As demand for Big Frog products increases, we are expanding throughout the U.S. and looking for individuals to join us.
Big Frog Franchise Opportunity
Big Frog offers a fun, creative, enjoyable and green opportunity to control your life and achieve your goals for the future. Owning your own business can provide personal freedom as well as a high level of pride in a job well done. Our concept is driven by emerging technology in fabric dyeing, and is revolutionizing a multi-billion dollar industry.

We feature a low total investment compared to other retail concepts, daylight hours 5 1/2 days a week, few and easy-to-find employees, designated territories, and elaborate training, support, proprietary operating systems and best of all it is a cash-based business with no accounts receivable. Multiple unit ownership is available. Best of all, we present an earnings claim in our Franchise Disclosure Document that is the envy of our industry.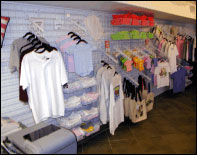 Training & Support
Previous experience is not required as we will provide you with extensive training and support. The Big Frog Custom T-Shirts franchise opportunity provides you with numerous advantages, including:
Low total investment compared to other retail concepts.

Small retail foot-print- stores are typically between 800 and 1,200 square feet.

Professional, daytime hours five and a half days a week.

Small inventory.

Minimal staffing requirements- typically only one to three employees are needed.

Semi-absentee and owner-operator business models.

Multi-unit ownership opportunities.

Designated territory.

Recession-resistant industry.

Effective marketing materials.

Environmentally-friendly products and processes.

Cash-based business with no accounts receivable.
Take the First Step Today!
Yes, it will require dedication and hard work on your part. But if you have the drive and ambition to build a business in a gigantic industry that is changing rapidly due to new technology, and be backed by the systems and support of a dedicated franchise company...if you share the passion for excellence and customer service on which Big Frog is founded, we invite you to consider our franchise opportunity
People Who Viewed Big Frog Custom T-Shirts Also Submitted for These Franchises
Browse Related Franchises by Industry
Please Note: This Big Frog Custom T-Shirts advertisement, and all other franchise opportunities, franchises for sale, business opportunities, businesses for sale, franchise financing providers, and other advertisements on this website should not be considered an offering or solicitation, and they are not recommended, endorsed, or approved in any way by FranchiseClique.com. All listings and advertisements on this website are submitted to Franchise Clique by the franchise, business opportunity, business for sale or other advertiser, and that information is relied entirely on for the truthfulness and accuracy of the information provided. Franchise Clique has no stake in these companies, and have not independently verified any of the information submitted, no responsibility for its accuracy or completeness is assumed by Franchise Clique. Persons submitting the inquiry form are under no obligation to purchase or otherwise utilize any services offered, they are simply requesting more information on the franchises or business opportunities listed. Please review the full advertisement before responding.
Submit Now to Get a FREE eBook - Read More
Transitioning from Employee to Entrepreneur
"
... a step-by-step guide to help you make the transition from the employee culture to that of the entrepreneurial world. This book is a complete toolkit and user's guide for success for everyone who dreams of starting his or her own business.
"
Receive FREE Franchise Info
About Big Frog Custom T-Shirts
Selected Companies:
Loading request list...