BikeCaffe
In fact, while you'll love our coffee and the coffee experience we serve, you'll really love our BikeCaffe Quads.
---
| | | | |
| --- | --- | --- | --- |
| Cash Investment: | $40,000 | Investment Range: | $40,000 |
| Franchise Fees: | $33,500 | Training & Support: | Yes |
| Franchise Units: | 60 | Financing Available: | Yes |

Let's face it, if you don't know it already, once you see one for the first time, you'll know it's true. BikeCaffes are cool!
In fact, while you'll love our coffee and the coffee experience we serve, you'll really love our BikeCaffe Quads. They not only provide a meaningful way to grow a socially responsible business, but they provide that truly rare ability to provide a customer precisely what they want in the location they want it.
The BikeCaffe trike has roots in London, where Will Shakesheff, BikeCaffe's founder, set out to create something special. With a passion for great coffee and a burning desire to give back the world, the first BikeCaffe was born. Since then, BikeCaffe has been sought after by the media, investors and like-minded, curious coffee lovers all wanting a glimpse and asserting their belief that the BikeCaffe will be the next "big thing".

Moreover, our franchisees enjoy the option of working wherever and whenever they likeand each can operate their BikeCaffes in exactly the manner that best fits their personal circumstances. This creates a truly sustainable lifestyle for BikeCaffe owners, perfectly in keeping with the vision for our company. We are firm believers that no other franchise opportunities offer the flexibility and operational choices that owing a BikeCaffe can provide.
A LITTLE BIKE WITH A BIG KITCHEN
While the BikeCaffe Quads look small, they pack a surprising amount of equipment and operational function, all on a frame small and light enough to ride off at the end of a day spent pleasing coffee lovers' hearts. Now that's Pedal Power!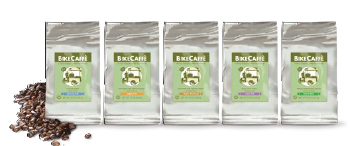 The BikeCaffe Franchise Opportunity
The Top Choice for an Environmental Reflective Business

The BikeCaffe opportunity is very exclusive and we're looking for special individuals to carry on our tradition of excellence. If your goals include owning your own business while making a positive impact on your community, then a BikeCaffe franchise may just be the perfect opportunity for you and your future.
A BikeCaffe Business Can Operate ANYWHERE.
Of the great benefits of owning a BikeCaffe, among the best has to be the extreme versatility in choosing where you will operate your BikeCaffe. The BikeCaffe is regularly operated in a variety of public settings, and many of our owners operate their BikeCaffes in numerous locations, depending on factors such as weather, pedestrian traffic patterns, event schedules, competition and their desired work schedules.
Frequent BikeCaffe Operating Locations

High Pedestrian Streets

Parks & Recreation Areas

Festivals

Sporting Events

Shopping Areas

Concerts

Shopping Centers

Outdoor Markets

Universities

Courthouses

Civic Centers

Office Buildings

Museums & Landmarks

Airports & Train Stations

And more....
What's Included
• BikeCaffe Location Finding Service - Yes, we will help you find a great location for your BikeCaffe, so you can start business the day it's delivered (a nominal fee may apply).
• BikeCaffe Health Department Approval Assistance - Anxious about your BikeCaffe passing your local Health Department Requirements? No problem, we will work with your local health department to ensure the needed approvals are obtained (a nominal fee may apply).
• Personal assistance to order a correctly equipped, custom built and proprietary BikeCaffe Coffee Bike, complete with espresso machine, smoothie preparation equipment, 3-compartment sink stationand hand washing sink, an on-board hot water heater, food display unit, built in refrigerator, rear mounted cooler and removable canopy with storage.
• A custom enclosed trailer designed specifically to carry your BikeCaffe safely.
• An initial inventory of coffee, cups and serving supplies and other accessories needed to prepare the BikeCaffe menu.
• An initial supply of custom marketing materials and Operator Dress, including BikeCaffe Aprons and other branding items.
• Comprehensive training manuals, covering all aspects of the BikeCaffe operation, including mechanical topics, menu preparation and customer service requirements.
• A copy of the BikeCaffe franchise operations manual.
• On-going support and training from our office, where needed.

People Who Viewed BikeCaffe Also Submitted for These Franchises
Browse Related Franchises by Industry
Please Note: This BikeCaffe advertisement, and all other franchise opportunities, franchises for sale, business opportunities, businesses for sale, franchise financing providers, and other advertisements on this website should not be considered an offering or solicitation, and they are not recommended, endorsed, or approved in any way by FranchiseClique.com. All listings and advertisements on this website are submitted to Franchise Clique by the franchise, business opportunity, business for sale or other advertiser, and that information is relied entirely on for the truthfulness and accuracy of the information provided. Franchise Clique has no stake in these companies, and have not independently verified any of the information submitted, no responsibility for its accuracy or completeness is assumed by Franchise Clique. Persons submitting the inquiry form are under no obligation to purchase or otherwise utilize any services offered, they are simply requesting more information on the franchises or business opportunities listed. Please review the full advertisement before responding.
Submit Now to Get a FREE eBook - Read More
Transitioning from Employee to Entrepreneur
"
... a step-by-step guide to help you make the transition from the employee culture to that of the entrepreneurial world. This book is a complete toolkit and user's guide for success for everyone who dreams of starting his or her own business.
"
Receive FREE Franchise Info
About BikeCaffe
Selected Companies:
Loading request list...