Buffalo Wings & Rings Restaurants
Buffalo Wings & Rings Restaurant franchises offer a new, casual environment in a restaurant rated #1 Chain Nationwide on Restaurant Business Magazines Future 50, 2008 List!
---
| | | | |
| --- | --- | --- | --- |
| Cash Investment: | $50,000 | Investment Range: | $50,000 |
| Franchise Fees: | n/a | Training & Support: | Yes |
| Franchise Units: | n/a | Financing Available: | Yes |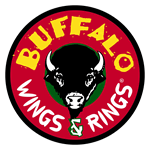 Rated #1 Chain Nationwide on Restaurant Business Magazines Future 50, 2008 List!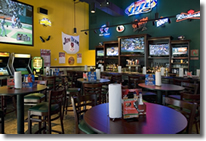 Wings have been around for more than three decades; originally gaining acceptance as a snack item -- but soon were in as great a demand as popcorn and nachos. Because wings taste so great, are good for parties, and are terrific finger food, they soon became popular lunch and dinner items.

As The American taste for chicken grows...the popularity of Buffalo Wings & Rings Soars!


When the first restaurant opened in 1988, customers raved about the Buffalo-style chicken wings and the home-style curly fries (otherwise known as our famous rings)! But they also raved about the delicious hamburgers; our Greek Isle Gyros addictive taste; the homemade soup and chili;(simply delicious quesadillas prepared 3 different ways) and an array of other sandwiches and salads.

Customers enjoyed dining in this new, casual restaurant where the friendly wait staff brought the food and beverages to their tables quickly -- fast food prices without the fast food environment -- a winning combination! At Wings & Rings we satisfy diners with champagne tastes and fast food budgets.

Our Franchise Opportunity

Below is listed some of the training and support you will receive as a Buffalo Wings & Rings franchisee:



Initial training for the franchisee and it's manager for 6 weeks

Franchisor provides staff to assist in the opening of your location for 3 weeks

Operations Manual provided which outlines methods and procedures

Franchise support for the operations of the franchisee's business ongoing

Why Our Prices Are So Low?

You are probably wondering how we can charge much less than our competition and still be in business, right?
We run a tight ship - We choose our actions carefully and ensure every dollar spent pays for itself; we streamline our system's processes; we don't have any frills or waste money on unnecessary things.
What's the end result of all this? Well, we're happy to tell you that we're a small but profitable company that expects to be in business for many years to come.


Interested parties should have at least $300,000 in Liquid Captial to invest.


---
Franchise User Reviews
Loading... please wait...
---
People Who Viewed Buffalo Wings & Rings Restaurants Also Submitted for These Franchises
News / Press Releases for Buffalo Wings & Rings Restaurants
A hot new Buffalo Wings and Rings Restaurant
Feb 20, 2011
- Friends from Lithuania Pursue American Dream; Welcome Customers to Brand New Buffalo Wings & Rings Franchise in Springdale, Ohio -- First 100 Get Free Pint Glass, T-Shirt and Chance to Win $100 Gift Card at Grand Opening --
Texas Sucess Story
Feb 20, 2011
- BUFFALO WINGS & RINGS ANNOUNCES EXPANSION IN THE SOUTH TEXAS MARKET WITH THE ADDITION OF NEW FRANCHISEE IN BROWNSVILLE
Browse Related Franchises by Industry
Please Note: This Buffalo Wings & Rings Restaurants advertisement, and all other franchise opportunities, franchises for sale, business opportunities, businesses for sale, franchise financing providers, and other advertisements on this website should not be considered an offering or solicitation, and they are not recommended, endorsed, or approved in any way by FranchiseClique.com. All listings and advertisements on this website are submitted to Franchise Clique by the franchise, business opportunity, business for sale or other advertiser, and that information is relied entirely on for the truthfulness and accuracy of the information provided. Franchise Clique has no stake in these companies, and have not independently verified any of the information submitted, no responsibility for its accuracy or completeness is assumed by Franchise Clique. Persons submitting the inquiry form are under no obligation to purchase or otherwise utilize any services offered, they are simply requesting more information on the franchises or business opportunities listed. Please review the full advertisement before responding.
Submit Now to Get a FREE eBook - Read More
Transitioning from Employee to Entrepreneur
"
... a step-by-step guide to help you make the transition from the employee culture to that of the entrepreneurial world. This book is a complete toolkit and user's guide for success for everyone who dreams of starting his or her own business.
"
Receive FREE Franchise Info
About Buffalo Wings & Rings Restaurants
Selected Companies:
Loading request list...