SNAP Fitness
SNAP Fitness 24-7 Health and Fitness Franchise helps you bring affordability and convenience to the neighborhoods of people across America.
---
| | | | |
| --- | --- | --- | --- |
| Cash Investment: | $75,000 | Investment Range: | $107,275 - $258,140 |
| Franchise Fees: | $19,500 | Training & Support: | Yes |
| Franchise Units: | 1300 | Financing Available: | Yes |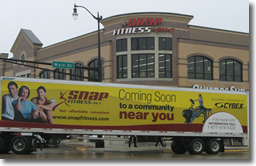 Why Own A Snap Fitness Franchise?


Thank you for your interest in owning a Snap Fitness Franchise. In an industry that continues to grow every year, Snap Fitness 24-7 allows its members to work out on their schedule not ours. The implementation of our unique systems, have made owning and operating your own exercise facility both affordable and easy to manage.




Snap Fitness Has The Answer


In today's fast paced world, it's difficult for people to commit to an exercise program due to busy, unpredictable schedules. In owning a Snap Fitness franchise, we will help you bring affordability and convenience to the neighborhoods of people across America. Our proven concept substantiates the fact that many people will for go "big box" health club concepts in lieu of convenience and affordability.

When opening a Snap Fitness franchise, you are sure to provide a convenient fitness option in your area. With our 24-hour a day card-key locking system, your members will appreciate a secure work out environment 24 hours a day, 7 days a week. One of the primary benefits of owning a Snap Fitness franchise is the convenience it provides for both its owners and members. As a Snap Fitness owner, you will benefit from our unique system, which incorporates the use of surveillance cameras, along with a certified trained staff to keep your operating costs low. Our system provides you both balance and freedom to own and manage up to three locations with only one person.


What Makes Snap Fitness Unique?


The Snap Fitness franchise concept is the wave of the future, regardless of the condition of our Nations economy, people always appreciate good value. With single memberships as low as US$22.50 per month, your Snap Fitness franchise provides a great alternative to the big box health club concepts available today: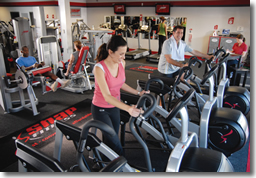 Priced affordably, great perceived value

Convenient 24 hour a day access

Low operating overhead

State of the art commercial grade equipment

Clean, safe environment
Our Experience


At Snap Fitness we understand the anxiety one feels when stepping into an industry or occupation in which they have little or no experience. Not to worry, the Snap Fitness team is committed to making you feel perfectly comfortable, by assigning a dedicated franchise representative to assist you through the step-by-step process that goes into building a Snap Fitness franchise store.
Site Selection

Lease Negotiations

Location Build-out

Ordering Initial Materials & Supplies

Hands on training at our Minneapolis corporate offices

On-site sales staff the entire 1st week of your store opening

Ongoing monthly training and sales seminars
Rankings in Entrepreneur Magazine 2009
Top Fitness Franchises: Snap Fitness #1

Top New Ranking: Snap Fitness #2

Fastest-Growing Franchises: Snap Fitness #5

America's Top Global Franchises: Snap Fitness #23
How do I get Started?


The first step in owning your own Snap Fitness franchise is by filling out the form to the right. By providing us your contact information, a Snap Fitness representative will contact you and walk you through the franchise approval process. Once we receive the appropriate information from you, your approval will take approximately two to five days.
Franchise Video
Click to Watch Video

SNAP Fitness

SNAP Fitness 24-7 Health and Fitness Franchise helps you bring affordability and convenience to the neighborhoods of people across America.
---
Franchise User Reviews
Loading... please wait...
---
People Who Viewed SNAP Fitness Also Submitted for These Franchises
Sorry, no records to display!
News / Press Releases for SNAP Fitness
Browse Related Franchises by Industry
Please Note: This SNAP Fitness advertisement, and all other franchise opportunities, franchises for sale, business opportunities, businesses for sale, franchise financing providers, and other advertisements on this website should not be considered an offering or solicitation, and they are not recommended, endorsed, or approved in any way by Franchise Buy. All listings and advertisements on this website are submitted to Franchise Buy by the franchise, business opportunity, business for sale or other advertiser, and that information is relied entirely on for the truthfulness and accuracy of the information provided. Franchise Buy has no stake in these companies, and have not independently verified any of the information submitted, no responsibility for its accuracy or completeness is assumed by Franchise Buy. Persons submitting the inquiry form are under no obligation to purchase or otherwise utilize any services offered, they are simply requesting more information on the franchises or business opportunities listed. Please review the full advertisement before responding.
Submit Now to Get a FREE eBook - Read More
Transitioning from Employee to Entrepreneur
"
... a step-by-step guide to help you make the transition from the employee culture to that of the entrepreneurial world. This book is a complete toolkit and user's guide for success for everyone who dreams of starting his or her own business.
"
Receive FREE Franchise Info
About SNAP Fitness
Selected Companies:
Loading request list...