Goga Studios
---

In addition to Whole Body Vibration Goga Studios offer Members, Infrared Sauna Therapy, Alkaline water stations and a complete line of Himalayan Salt Products.
Consumers have the option of monthly membership plans or the ability to purchase products directly.
The easiest workout you'll ever do!
Just stand on it for 10 minutes a day and you may experience the results in as little as a few weeks.
The newest innovation in health and fitness - Whole Body Vibration Machines, have been shown to:

* increase muscle strength
* tone and firm muscles
* improve flexibility
* increase metabolism
* decrease cellulite
* assist in weight loss
* improve mobility
* improve coordination
* massage muscles
* low impact - kind to joints
Our WBV machines of choice are manufactured by T-Zone Health Inc. and are also listed with the FDA as a class 1 medical device.
How Vibration Technology Works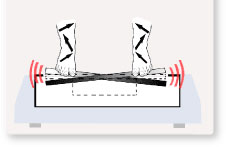 When you stand on a Goga Vibration Platform, it produces a side alternating rocking movement (oscillation) which simulates a walking motion. Thousands of involuntary muscle contractions are triggered throughout your body, stimulating every cell – including your muscles, bones and soft tissue.
Our body reacts to this natural stimulus with an involuntary reflex body reaction. Depending on the speed, your muscles will contract up to 30 times per second and as the acceleration forces increase, your body will feel as though it "weighs" more. This clever technology means you can work against a far greater influence or "load" of gravity with every movement you perform. Goga's oscillating machines offer less stress on the joints, ligaments and tendons when compared to other exercise machines and regular resistance training.
The result is that you may achieve more benefits in far less time than conventional exercise. Unlike other fitness or health machines, the Goga Vibration Platform is particularly unique because it achieves results for a wide range of health objectives for all ages and body types.
Franchise opportunities
GOGA studios Inc. are offering franchises throughout the US.

About Goga Studios
Goga studios are the pioneers in Whole Body Vibration. Ten minutes sessions allow users to oscillate their way to better health and fitness.
---
Franchise Profile
Primary Industry:

Health and Fitness Franchises

Financing Available:

Yes

Investment Range:

$25,000 - $40,000

Training & Support:

Yes