360° Painting is proud to be the #1 local choice for professional painting services. We deliver eye-catching results on projects of any size and any scope, offering a professional's touch from the planning stage of residential and commercial projects to the final brushstrokes. With an approach founded on quality, responsiveness, and customer service, we're the perfect partner for any painting project.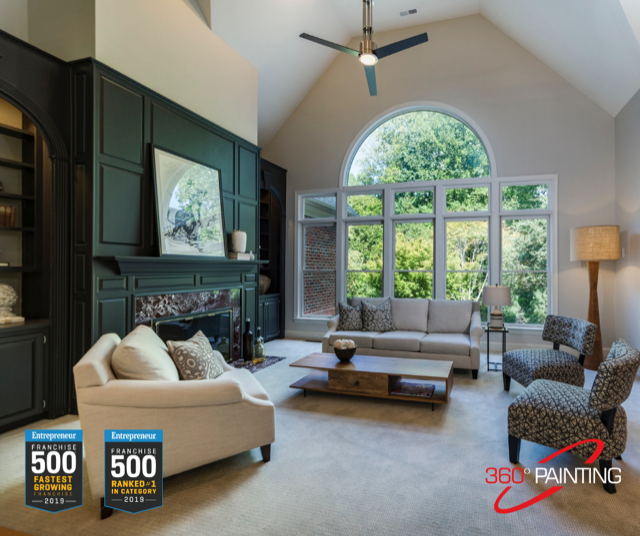 360° Painting is one of four brands within the Premium Service Brands family. We are an award-winning brand that Entrepreneur has ranked both as the #1 Paint Franchise two years in a row and as one of the fastest-growing franchises in 2019. Our supportive and on-going training schedule extends well beyond the initial launch process — 360° Painting provides franchise partners all the tools to continually progress, develop, earn, and succeed in their businesses.
When you franchise with 360° Painting you not only get access to superior training and business planning but you also enjoy:
An escape from the corporate rat-race,
A flexible schedule that allows you to balance your life while building a successful business,
Marketing & advertising expertise provided for you to grow your local business,
A central call-center staffed six-days-a-week that schedules leads and allows you to focus on running your business, and
On-going training beyond the initial start-up period including a yearly franchise-wide convention that supports new partners and boosts veteran ones.
Join the industry leader and achieve maximum success!
Working with an established market-leader like 360° Painting sets every partner up for maximum success. With low overhead, little risk, and a fully-integrated training program, 360° Painting offers the best experience in opening, operating and growing your own business.
Our special partnerships with nationally-recognized painting companies like Sherwin-Williams gives us cutting-edge access to the latest in commercial and residential painting. 360° Painting offers customers the best in expertise and in service while franchise partners enjoy the benefits of one-on-one business coaching and high-level year-round support.
As an added benefit of franchising with Premium Service Brands, there are unique business opportunities to becoming a multi-brand owner.
Make today the day you take control of your future. Join the industry leader today.
An award-winning brand
Since its founding, 360° Painting has been an industry leader with unprecedented growth. Twice ranked as the #1 Painting Franchise (2018, 2019) and as a Fastest Growing Franchise by Entrepreneur Magazine, 360° Painting has been included in numerous rankings in recognition of their superior brand. In addition to being included on the Inc. 5000 "America's Fastest Growing Private Businesses" list, we've also been recognized by Franchise Business Review and other franchise publications.
Read what our partners have to say…
"360° Painting has been a great partner and franchise to work with since we first came on board in October 2015. We were happy and honored to engage in the growing brand. Paul Flick and his team have been amazing; they treat us as family when we have faced obstacles, including financial concerns around a death in the family. Before even remedying this problem, the corporate team asked us if we were okay, and were patient as we got things back on track. The training program has come a long way to help the franchise partners be more successful right out of the gate, and we are surrounded by a community of really good 360° franchisees who stay connected by asking questions, providing feedback, and sharing ideas." — Steve H. & Felicia A.