ACFN The ATM Franchise Business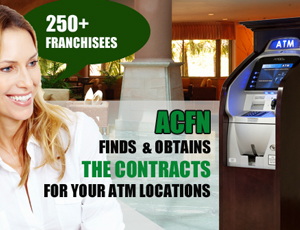 ACFN, the ATM franchise, offers a very simple business model for those looking for an additional income working only a few hours a week.
Here is how it works:
ACFN: Researches & finds qualified locations in your area
YOU: Review and approve the leads
ACFN: Obtains the contracts for the placement of your ATMs.
YOU: Own & operate your ATM network investing a few hours a week.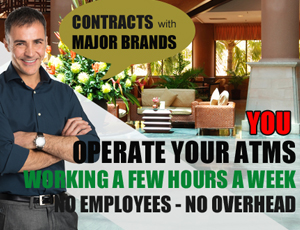 Get paid from every transaction at every one of your ATMs
Part time business scalable to full time
Deploying ATMs since 1996 and franchised in 2003
No Overhead, No Employees, No Selling
Manage Your Business From Home or any mobile device
Make Your Own Flexible Schedule
Low Cost, High Return Business Opportunity
Ranked #1 Franchise in category by the prestigious Entrepreneur Franchise 500 four years running
No prior ATM or business experience is needed - We hold you by the hand and build your business together
Veteran discount & 401K qualified
Minimum capital required to start $60K
New franchisee joining ACFN every 11 days*
*Average 1/1/2014 – 12/31/2015
250+ ACFN franchisees love their ATM Business because it requires no selling,
has no overheads and it is easy to scale without having to invest in costly marketing and employees.