DVDNow Rental Kiosks
DVDNow Kiosks are automated DVD rental kiosks and are the perfect fit for grocery, convenience stores, gas stations, office buildings and other venues that consumers frequent on a regular basis.
---
| | | | |
| --- | --- | --- | --- |
| Cash Investment: | $22,995 | Investment Range: | $22,995 |
| Franchise Fees: | $20,000 | Training & Support: | Yes |
| Franchise Units: | 1000 | Financing Available: | Yes |

DVDNow Kiosks - Who We Are
DVDNow is the world's largest network of independently owned and operated DVD rental kiosks. Since 2006 we have helped over 1,000 entrepreneurs from around the world get started on the road to success and financial independence through business ownership. We are currently seeking independent Owner Operators for select markets both internationally and throughout the United States and Canada.

The DVDNow Opportunity-

With DVDNow Kiosks you can be in your own business in less than 45 days for under $25K. Finally an affordable business opportunity that anyone can do in conjunction with their regular job.

DVDNow provides our kiosk operators with a complete affordable turnkey Business Solution designed to generate income right away. Our Program includes all equipment, training, professional installation, along with continuous sales and marketing support essential for achieving maximum results.
Why do Movie Watchers Love DVDNow?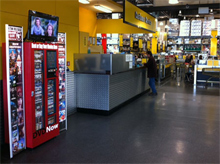 The answer is simple - Selection, Price and Convenience. There is no other company or service, (including Redbox, Apple, or any cable or satellite TV provider), that can offer easier or less expensive access to all of the latest Hollywood blockbusters on the day and date of their DVD release than DVDNow.
Most titles are available in our kiosks at least 28 days ahead of Redbox, and at a price that is as much as $4 per night cheaper than Video-on-Demand or Apple TV.
Why is Now a Good Time to Enter this Business?
While the timing may not be right for many businesses due to the global economic conditions, the demand for high quality and inexpensive entertainment has created the perfect environment for starting a DVD rental kiosk business.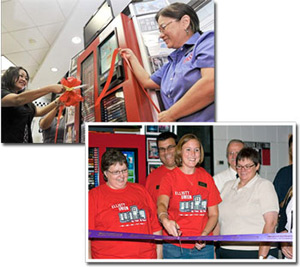 According to Home Media Magazine, an entertainment industry trade publication, more than 30% of all movies are now rented from a DVD rental kiosk.
DVDNow has put all the pieces in place to help you get started in a business as quickly as possible. Just imagine, within 45 days of reading this you can have your own network of DVD rental kiosks installed and operational, generating revenue for you and your family.
To learn more about our business, please fill out the Request Form below. You will receive an email with more information about our DVD rental kiosk programs as well as the dates and times of upcoming educational webinars.
DVDNow supports the VetFran program.
---
Franchise User Reviews
Loading... please wait...
---
People Who Viewed DVDNow Rental Kiosks Also Submitted for These Franchises
Sorry, no records to display!
News / Press Releases for DVDNow Rental Kiosks
Browse Related Franchises by Industry
Please Note: This DVDNow Rental Kiosks advertisement, and all other franchise opportunities, franchises for sale, business opportunities, businesses for sale, franchise financing providers, and other advertisements on this website should not be considered an offering or solicitation, and they are not recommended, endorsed, or approved in any way by Franchise Buy. All listings and advertisements on this website are submitted to Franchise Buy by the franchise, business opportunity, business for sale or other advertiser, and that information is relied entirely on for the truthfulness and accuracy of the information provided. Franchise Buy has no stake in these companies, and have not independently verified any of the information submitted, no responsibility for its accuracy or completeness is assumed by Franchise Buy. Persons submitting the inquiry form are under no obligation to purchase or otherwise utilize any services offered, they are simply requesting more information on the franchises or business opportunities listed. Please review the full advertisement before responding.
Want More Info?
Dial
877-663-7969
, if you want to speak
immediately
to the Director of Franchise Development at DVDNow Rental Kiosks!
Submit Now to Get a FREE eBook - Read More
Transitioning from Employee to Entrepreneur
"
... a step-by-step guide to help you make the transition from the employee culture to that of the entrepreneurial world. This book is a complete toolkit and user's guide for success for everyone who dreams of starting his or her own business.
"
Receive FREE Franchise Info
About DVDNow Rental Kiosks
Selected Companies:
Loading request list...
You Contact Information