Genghis Grill
The Genghis Grill system is successful because of its unique energy and its commitment to some of the highest operating standards in the industry.
---
| | | | |
| --- | --- | --- | --- |
| Cash Investment: | $9,500 | Investment Range: | $9,500 |
| Franchise Fees: | $9,500 | Training & Support: | Yes |
| Franchise Units: | 398 | Financing Available: | Yes |
Overview
The Genghis Grill system is successful because of its unique energy and its commitment to some of the highest operating standards in the industry. If you are prepared to dedicate yourself to the same, we encourage you to investigate our franchise offering. The advantages to owning a Genghis Grill franchise are as numerous as the khanbinations available in our restaurants. Genghis Grill provides assistance through every phase of the development process, from site selection and design to training and hosting your Grand Opening. Since the inception of this fun and interactive concept, Genghis Grill has carefully built an experienced team of franchise and restaurant professionals to assist you. Our staff brings a wealth of experience from a broad cross section of the franchised food service industry and we can help you find solutions to any challenges you may face. Our concept, corporate culture and operational systems have been thoughtfully developed to provide you with the necessary ingredients to successfully Build Your Own Franchise!
Products & Services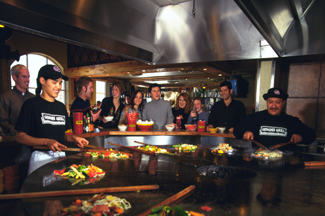 What is Mongolian Stir Fry?
That's a good question.

It's actually not a cuisine, but an interactive style of exhibition cooking modeled after a centuries-old legend. According to this legend, 12th century Mongol armies, led by the mighty warrior Genghis Khan, heated their shields over open fires to grill food in the fields of battle. At Genghis Grill, diners' build their own bowls' from a selection of fresh meats, oils, vegetables, sauces, and spices in Khan's Kitchen (a food bar featuring an array of over 80 ingredients). The diner then hands the creation over to one of our Grill Masters, who cooks it on a large, round grill in a matter of moments. Call it build your own stir-fry fun, unlimited variety, interactive, and delicious! When it comes to Mongolian Stir Fry, we are the experts.
Training & Support
Our start-up support includes site review, construction assistance and access to architectural and design consultation. We offer personalized and comprehensive classroom and on-the-job training, on-site grand opening training and assistance, continuing marketing guidance, our exclusive supplier and purchasing programs and ongoing restaurant-level supervision, feedback and support.
As the old industry adage says, "There are three important keys to success - location, location, location!" Through our collective experience, the staff at Genghis Grill has located hundreds of successful restaurant sites. Combine that with the specific knowledge of what site and market characteristics make a great Genghis Grill, and you have a formula for success. We are committed to the success of our franchise owners and will make our expertise available to you as you search for your own location. Although the final decision is yours, we will be there to assist you at every step of the process.
Are You a Good Fit for Genghis Grill?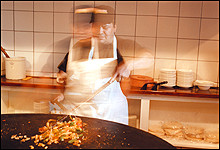 How much does a Genghis Grill Franchise cost?
Initial Franchise Fee $30,000 to $30,000
First Month's Rent & Security Deposit As negotiated by you and your lessor Leasehold Improvements* $119,000 to $285,000
Furniture, Fixtures, & Signage $75,000 to $170,000
Liquor License Varies
Initial Training Costs and Opening Team Expenses $5,000 to $15,000
Computer Hardware & Software $15,000 to $30,000
Initial Inventory/Supplies $15,000 to $30,000
Professional Services $3,000 to $5,000
Promotional Expenses $5,000 to $25,000
Insurance $2,000 to $10,000
Additional Funds $20,000 to $50,000
TOTAL INVESTMENT RANGE $289,000 to $650,000
---
Franchise User Reviews
Loading... please wait...
---
People Who Viewed Genghis Grill Also Submitted for These Franchises
Sorry, no records to display!
Browse Related Franchises by Industry
Please Note: This Genghis Grill advertisement, and all other franchise opportunities, franchises for sale, business opportunities, businesses for sale, franchise financing providers, and other advertisements on this website should not be considered an offering or solicitation, and they are not recommended, endorsed, or approved in any way by Franchise Buy. All listings and advertisements on this website are submitted to Franchise Buy by the franchise, business opportunity, business for sale or other advertiser, and that information is relied entirely on for the truthfulness and accuracy of the information provided. Franchise Buy has no stake in these companies, and have not independently verified any of the information submitted, no responsibility for its accuracy or completeness is assumed by Franchise Buy. Persons submitting the inquiry form are under no obligation to purchase or otherwise utilize any services offered, they are simply requesting more information on the franchises or business opportunities listed. Please review the full advertisement before responding.
Submit Now to Get a FREE eBook - Read More
Transitioning from Employee to Entrepreneur
"
... a step-by-step guide to help you make the transition from the employee culture to that of the entrepreneurial world. This book is a complete toolkit and user's guide for success for everyone who dreams of starting his or her own business.
"
Receive FREE Franchise Info
About Genghis Grill
Selected Companies:
Loading request list...
You Contact Information