Kalologie 360 Spa
Kalologie launches a Spa Franchise Opportunity unlike any other, offering treatments such as facials, massage, waxing and tanning.
---
| | | | |
| --- | --- | --- | --- |
| Cash Investment: | $100,001 | Investment Range: | $100,001 |
| Franchise Fees: | $39,000 | Training & Support: | Yes |
| Franchise Units: | 8 | Financing Available: | Yes |

Kalologie means "the study of beauty". Kalologie 360 Spas provide a full array of spa services and effective products with an attractive membership-based revenue model. Named an American Top-10 Spa Destination by Elle Magazine, Kalologie launches a Spa Franchise Opportunity unlike any other, offering treatments such as facials, massage, waxing and tanning, along with the latest in aesthetic retail products and accessories, including the award-winning Kalologie line of skin care products, seven days per week, with morning and evening appointment options standard. And through the innovative Kalologie Spa Pass, members can benefit from special member-only pricing to help add to the satisfaction of visiting a Kalologie location each and every month!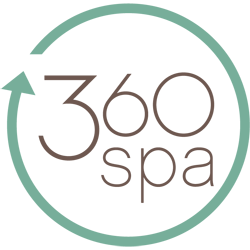 For Our Franchisees The 360 system starts with spa design, and a spa designed to maximize revenues. The Kalologie "front-of-house" is reflective of an upscale apothecary. Customers are free to browse some of the finest aesthetic products in the industry. When greeted by a trained staff of aesthetic professionals, customers are provided a service menu and invited to visit Kalologie's "back-of-house" treatment rooms, offering spa services that include facials, waxing, tanning, brow bar and massage. Service clients, after receiving a Kalologie treatment, can discuss personalized product recommendations and purchase retail versions of products used during treatments. These two elements, retail and service, combine to provide clients with an integrated 360 solution to their product and treatment needs.
For Our Clientele The Kalologie spa franchise opportunity also means a flexible membership model that can be customized to accommodate the demands of most active lifestyles. Unlike membership models based solely on single-service offerings such as massage or waxing, Kalologie offers a portfolio of services and provides customers the opportunity to customize their membership to meet their needs. Client members can choose from a broad array of facial and massage options, and upgrade their monthly visits with services such as tanning and waxing. Clients appreciate a membership that is flexible, and you will appreciate a membership system that increases client retention and provides multiple revenue streams.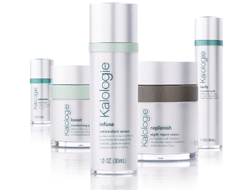 Award-Winning Products: Our proprietary retail product line was developed through extensive research and testing, leading to the formulation of some of the most effective skin care products on the market. Designed to clarify, repair, infuse, hydrate and balance, Kalologie products are dedicated to create and maintain healthy looking skin. By eliminating harsh chemicals often found in lesser product lines and committing to the highest quality effective ingredients, Kalologie has crafted award-winning products with a loyal following by those who need to keep their skin in the best possible condition.
The Kalologie product line is an important aspect of your branding program, keeping the Kalologie name in front of your customers on a daily basis, and creating additional reasons for your clients to visit your local Kalologie location.
And the Kalologie line of professional products will help keep clients coming back for more. These professional-grade formulations, designed
to complement the Kalologie retail line, provide the active ingredients that clients expect during in-spa treatments. By pairing quality retail products with the most in-demand spa services, you will create a powerful one-two punch to drive your spa franchise opportunity.
Why own a Kalologie 360 Spa Franchise Opportunity ?
Every franchise owner benefits from:
• Broad Service Offerings: Unlike massage-based franchisors that either focus on one spa service, or are now trying to offer "bolt-on" spa services such as facials and waxing, we have developed a core competency in these services, for years.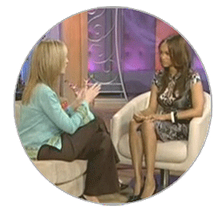 • Innovative Membership Pricing: The Kalologie Spa Pass is a flexible membership-based model that offers clients tangible value while providing franchisors with a steady revenue stream.
• Award-Winning Products: Maximize revenues with a proprietary product line renowned for innovation. Products include retail and professional lines to help maximize sales and repeat business.
• International Press: Renowned throughout the world for cutting-edge spa products and services, find out why Hollywood's elite flock to Kalologie for their spa product and service needs.
• Large Market: U.S. consumers spend billions annually on spa services.
098778ifpg201498
---
Franchise User Reviews
Loading... please wait...
---
People Who Viewed Kalologie 360 Spa Also Submitted for These Franchises
Sorry, no records to display!
Browse Related Franchises by Industry
Please Note: This Kalologie 360 Spa advertisement, and all other franchise opportunities, franchises for sale, business opportunities, businesses for sale, franchise financing providers, and other advertisements on this website should not be considered an offering or solicitation, and they are not recommended, endorsed, or approved in any way by Franchise Buy. All listings and advertisements on this website are submitted to Franchise Buy by the franchise, business opportunity, business for sale or other advertiser, and that information is relied entirely on for the truthfulness and accuracy of the information provided. Franchise Buy has no stake in these companies, and have not independently verified any of the information submitted, no responsibility for its accuracy or completeness is assumed by Franchise Buy. Persons submitting the inquiry form are under no obligation to purchase or otherwise utilize any services offered, they are simply requesting more information on the franchises or business opportunities listed. Please review the full advertisement before responding.
Submit Now to Get a FREE eBook - Read More
Transitioning from Employee to Entrepreneur
"
... a step-by-step guide to help you make the transition from the employee culture to that of the entrepreneurial world. This book is a complete toolkit and user's guide for success for everyone who dreams of starting his or her own business.
"
Receive FREE Franchise Info
About Kalologie 360 Spa
Selected Companies:
Loading request list...
You Contact Information