MRINetwork is a global franchise opportunity from the leader in the executive search and recruitment industry.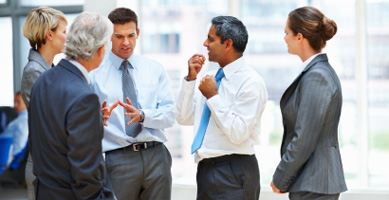 Founded in 1965, MRINetwork has grown into one of the largest and most successful recruitment organizations in the world with approximately 600 offices in 40 countries.
MRINetwork is 100% franchise owned. What does that mean to you? Each of our offices is independently owned and managed by an entrepreneur who has full access to MRINetwork systems and methodology. That means you join a vast community of owners with diverse backgrounds all working toward the same goal - to build a profitable business. You benefit as part of a global market leader in the search and staffing industry while providing direct hire recruitment and contract staffing solutions to your clients in the specialty or niche that you choose.
Why search & recruitment?
According to Staffing Industry Analysts, the staffing industry has grown by 78% since 1995. The Bureau of Labor Statistics has projected that employment services will grow to $229.3 billion by 2020. They have identified this sector as one of the fastest growing industries in the US. MRINetwork was named one of the top three providers of direct hire by Staffing Industry Analysts in its 2014 Largest Direct Hire Firms in the Unites States listing. This is a repeat status for MRINetwork, based on our annual direct hire revenue, with the organization ranking #2 in the latest report.
If you are an experienced business professional with a strong network of contacts, a sales background or an affinity for consultative sales, we offer you the opportunity to become a business owner with MRINetwork.
Put your industry experience, your network and your influence to work for you.

Leverage multiple revenues streams to grow your business.

No location or industry restrictions - your client and candidate territory isn't driven by geographic boundaries.

Have the confidence of knowing that we've been franchising for 50 years.

Choose where you want to live, work and retire.

You will be surprised at the investment level and financing programs we offer.
Already familiar with the industry?
Create your own brand within our global brand - a flexibility not typically granted by most franchise systems.

Leverage multiple revenues streams including contingent, retained, contract and large scale placement.

Full contract staffing back office support.

Leveraged purchasing power for all of your recruitment solutions.

Structured hiring and onboarding support for new employees as you grow your business.
Do you have a history of success and a proven track record in your industry? Are you contemplating a career change and business ownership? Embark on your next venture, and discover why a franchise opportunity with MRINetwork may be right for you.