Mathnasium Learning Centers
With more than 700+ centers – and an average of two more opening each week – Mathnasium is rapidly growing around the world. That's because we are passionate about what we do. It's also because our franchise combines all of the factors experts agree are critical to maximize your probability of success: Exceptional market demand, a superior product, the right people and support along with a proven track record. Becoming a Mathnasium franchisee is an opportunity to truly love what you do.
---
| | | | |
| --- | --- | --- | --- |
| Cash Investment: | $100,000 | Investment Range: | $102,750 - $143,610 |
| Franchise Fees: | $40,000 | Training & Support: | Yes |
| Franchise Units: | 750 | Financing Available: | No |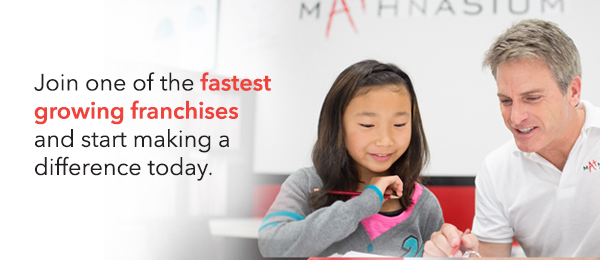 Where our story began…
In 2002 we had just one Mathnasium center in Los Angeles, California. Today we have over 700+ locations and are teaching children in communities across America and in countries around the world, providing neighborhood environments where humanity combines with math expertise.
Demand: Math not making sense is a universal problem
Math teaches thinking skills and problem solving which will become increasingly vital in future work and daily life. There are currently more than 50 million students and two-thirds of them score below average in math. The bottom line: students everywhere need help with math at one time or another – more help than they're getting in school.
Mathnasium firmly believes that any kid can be good in math. Different from physical limitations, which might prevent a child from excelling in sports or the arts, a majority of children possess the ability to understand the relationship between numbers. They just need the right instruction – they need to be taught math the way that makes sense to them.
The right instruction makes all the difference
The strength of the Mathnasium Method™ lies in its individualized approach. As no two students come to us at the same skill level, our approach includes a personal skills assessment designed to tell us where strengths and weaknesses lie for each student. We meet them right where they are and move forward from there.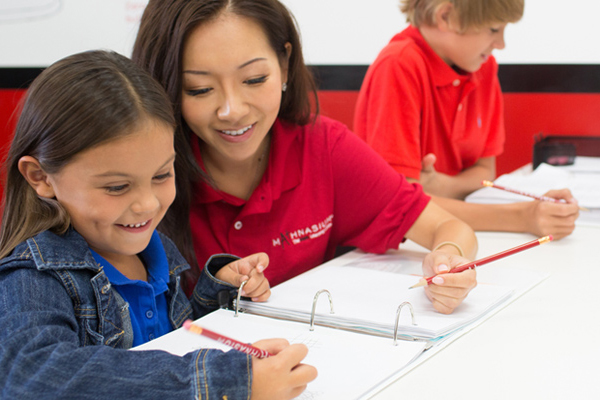 Support: We want to teach you the business
If you don't have a teaching background, you can still excel as a Mathnasium franchisee. In fact, the backgrounds of our ideal franchisees vary greatly – from engineers and accountants to teachers and homemakers, and everything in between. Mathnasium franchise training was designed to level the playing field. We teach you all that you need to know about running a business that deals with math instruction.
Initial Franchise Training
Once you sign on as a franchisee, you'll gain access to more than 50 hours of online training. You'll also spend a full week with us in Los Angeles, CA at Mathnasium's corporate headquarters. Here you'll learn financial planning for your franchise and take education courses in the Mathnasium Method™.
Throughout the life of your franchise agreement, support will be there whenever you need it. From Start-up Specialists (SUS) and Field Business Consultants (FBC) to regional training and annual conventions, you'll have everything you need to grow and maintain your business.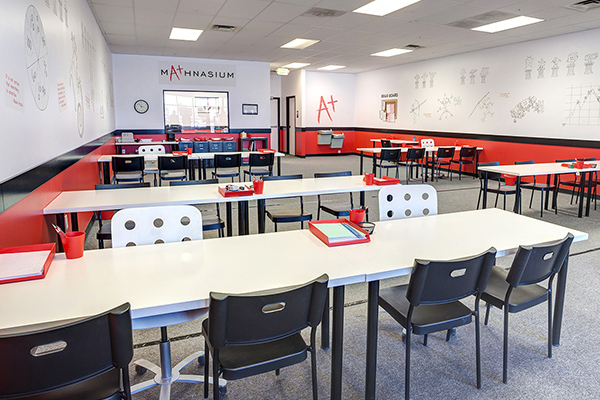 Ideal candidate
Mathnasium is now looking for franchisees who are:
Dedicated to the cause of helping improve math education and building students' confidence.
Ready for a full-time, rewarding career.
Wanting to join a growing multibillion-dollar industry.
Looking for a relatively low investment and start-up cost.
Looking to make a positive difference in their community.
Testimonials
"Mathnasium has proven to be a wonderful opportunity. I have touched the lives of 1,200 students in my community so far, giving them confidence in mathematics and in themselves. I have become a well-known and trusted member of my community, and I experience a great sense of joy when interacting with parents and students."
John Opalko, Owner/Center Director of a Mathnasium Learning Center in Woodlands, Texas
"The billion dollar difference between Mathnasium and everyone else is the education program, which I believe is the best math education system available in the world. Here I am with three centers that are successful, profitable and personally fulfilling."
Kapil Mathur, Owner of three Mathnasium Learning Centers in Orange County, CA
"I am proud of the work we have done with our students. They are "tomorrow" and I am blessed with the opportunity to make our "tomorrow" better. At the age of 51, this is the most satisfying vocation I have ever had. Mathnasium builds confidence – and I've found that confidence is everything."
John Napoli, Owner of a Mathnasium Learning Center in Middletown, NJ

---
Franchise User Reviews
Loading... please wait...
---
News / Press Releases for Mathnasium Learning Centers
Browse Related Franchises by Industry
Submit Now to Get a FREE eBook - Read More
Transitioning from Employee to Entrepreneur
"
... a step-by-step guide to help you make the transition from the employee culture to that of the entrepreneurial world. This book is a complete toolkit and user's guide for success for everyone who dreams of starting his or her own business.
"
Receive FREE Franchise Info
About Mathnasium Learning Centers
Selected Companies:
Loading request list...
You Contact Information