Quiznos
Quiznos offers delicious, chef-inspired subs, soups, and salads, made with the freshest ingredients.
---
| | | | |
| --- | --- | --- | --- |
| Cash Investment: | $10,000 | Investment Range: | $15,540 - $223,726 |
| Franchise Fees: | $10,000 | Training & Support: | Yes |
| Franchise Units: | 2795 | Financing Available: | Yes |
CAN YOU AFFORD TO OWN YOUR OWN BUSINESS?
YOU BET YOU CAN!
Now is the right time to own your own restaurant business and Quiznos is making it even more affordable.
And with our financing assistance, you can afford to join the thousands of Quiznos franchise owners who have changed their lives and their futures. Take advantage of our franchise program designed to get you in business quickly, affordably and without requiring big financial qualifications.
Get started with an initial franchise fee of $10,000*
Benefit from Quiznos assistance in securing financing*
Own "The New Quiznos" – our new store design
Could you ask for anything more? Well, yes you can - and Quiznos will deliver
Here at Quiznos®, we believe in giving every aspiring business owner the head-start they deserve. And with our entrepreneur-friendly choices, we have an opportunity available for virtually anyone.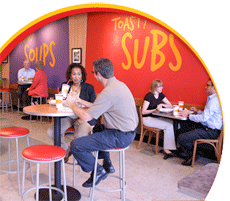 Now is your chance
Quiznos is a beloved brand in the largest, fastest-growing segment of the $566 billion restaurant industry.** Consumers crave our delicious, chef-inspired food - and our popularity continues to soar. As a Quiznos franchisee, you'll instantly benefit from:
An established, national brand adored by millions

A multi-million-dollar advertising fund designed to increase sales

Effective tools, resources and support systems that contribute to your success
If you've ever dreamed of owning your own business, now is your chance to own a BIG national brand without a big investment! Contact us today!

*$10,000 is the Initial Franchise Fee.
Quiznos financing opportunities are provided through third party institutions. Candidates are subject to the terms and conditions of such institutions.
Some candidates may not meet all requirements for these financing opportunities. "Quiznos" and all related marks are property of QFA Royalties LLC, 1001 17th Street, Suite 200, Denver, CO 80202. MN File No F-4135 copyright 2010 QIP Holder, LLC. All Rights Reserved.
** QSR, "2010 Media Information"
---
Franchise User Reviews
Loading... please wait...
---
People Who Viewed Quiznos Also Submitted for These Franchises
Sorry, no records to display!
Browse Related Franchises by Industry
Please Note: This Quiznos advertisement, and all other franchise opportunities, franchises for sale, business opportunities, businesses for sale, franchise financing providers, and other advertisements on this website should not be considered an offering or solicitation, and they are not recommended, endorsed, or approved in any way by Franchise Buy. All listings and advertisements on this website are submitted to Franchise Buy by the franchise, business opportunity, business for sale or other advertiser, and that information is relied entirely on for the truthfulness and accuracy of the information provided. Franchise Buy has no stake in these companies, and have not independently verified any of the information submitted, no responsibility for its accuracy or completeness is assumed by Franchise Buy. Persons submitting the inquiry form are under no obligation to purchase or otherwise utilize any services offered, they are simply requesting more information on the franchises or business opportunities listed. Please review the full advertisement before responding.
Want More Info?
Dial
877-661-9349
, if you want to speak
immediately
to the Director of Franchise Development at Quiznos!
Submit Now to Get a FREE eBook - Read More
Transitioning from Employee to Entrepreneur
"
... a step-by-step guide to help you make the transition from the employee culture to that of the entrepreneurial world. This book is a complete toolkit and user's guide for success for everyone who dreams of starting his or her own business.
"
Receive FREE Franchise Info
About Quiznos
Selected Companies:
Loading request list...
You Contact Information