Who is Roof Maxx
Join one of the fastest growing business opportunities in history! Roof Maxx is creating unprecedented opportunity for their nationwide network of certified dealers who are disrupting the multi-billion-dollar roofing industry with a simple, green, clean and affordable alternative to roofing replacement, which is expensive, messy and time consuming.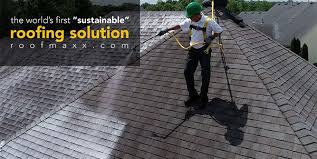 As a certified dealer, you will help homeowners and building owners save money by extending the life of their asphalt shingles, instead of having to tear off and replace the roof. You'll be joining an elite group of new breed roofers, saving consumers up to 85% off the cost of a new roof while protecting the environment. Keeping shingles out of landfills and more money in your pocket. Brilliant!
Until now there has never been a way to maintain or extend the life of an asphalt roof. Roof Maxx is a proven effective solution for protection of aging roofs or simply buying some more time on roofs that are at the end of their useful life. Roof Maxx is 100% safe for people, pets, property, and the environment, because it's an all-natural food-grade product. Any overspray is rinsed away with a hose or rain.
The entire process is quick, clean and very affordable, costing just 15%-20% of the cost of a traditional roof replacement.
Why Become a Roof Maxx Dealer?
The Roof Maxx Dealership Opportunity is one of the most exciting low-cost opportunities available today. As an exclusive dealer, you'll enjoy the benefits typically associated with successful franchise companies, including access to an exclusive, protected territory, training, support and marketing leads, but without the high upfront cost or monthly royalties.
As an exclusive Roof Maxx Dealer, our success is tied to your success, because we only succeed when you sell jobs and buy product. Our business model is very simple, straight-forward and fair. Our commitment to our dealers has led to our record-breaking growth, with dealers in over 47 states, in our first year alone. If you are interested in growing a successful business in the massive home-services industry, The Roof Maxx Dealership Opportunity is a clear choice.
The Roof Maxx opportunity requires no experience or technical ability, but the kind of management, leadership, and communication skills many veterans develop in the service, do come in handy.
We are receiving hundreds of applicants each month. If you are serious about securing your family's financial independence, now is the time to act. Territories are going fast and this opportunity won't be available for long!
To expedite the process, please take a moment to complete the form above. We look forward to speaking with you soon!
Dealership Information
Business Type: Dealership
Marketing / Guaranteed Leads
Exclusive Protected Territory
High Profit Margins
Recession Proof Business
Easy & Clean Product Application
Proven Selling System
Proven Marketing Systems
Proprietary Software
100% Training and Dealer Support
Financing Available