SNAP Fitness Franchise
SNAP Fitness 24-7 Health and Fitness Franchise helps you bring affordability and convenience to the neighborhoods of people across America.
---
| | | | |
| --- | --- | --- | --- |
| Cash Investment: | $75,000 | Investment Range: | $109,525 - $285,620 |
| Franchise Fees: | $25,000 | Training & Support: | Yes |
| Franchise Units: | 1290 | Financing Available: | Yes |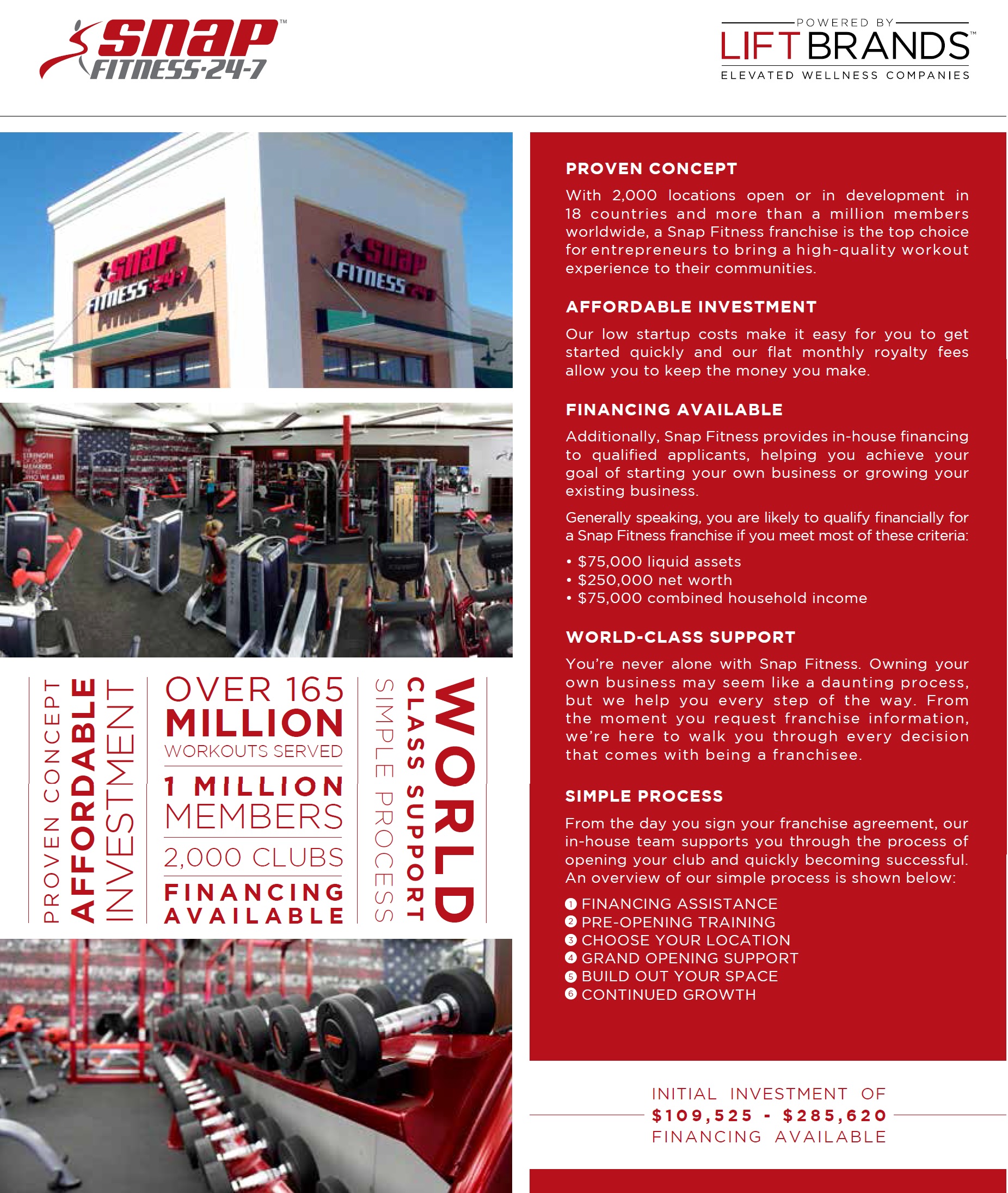 ---
Franchise User Reviews
Loading... please wait...
---
People Who Viewed SNAP Fitness Franchise Also Submitted for These Franchises
Sorry, no records to display!
Browse Related Franchises by Industry
Please Note: This SNAP Fitness Franchise advertisement, and all other franchise opportunities, franchises for sale, business opportunities, businesses for sale, franchise financing providers, and other advertisements on this website should not be considered an offering or solicitation, and they are not recommended, endorsed, or approved in any way by Franchise Buy. All listings and advertisements on this website are submitted to Franchise Buy by the franchise, business opportunity, business for sale or other advertiser, and that information is relied entirely on for the truthfulness and accuracy of the information provided. Franchise Buy has no stake in these companies, and have not independently verified any of the information submitted, no responsibility for its accuracy or completeness is assumed by Franchise Buy. Persons submitting the inquiry form are under no obligation to purchase or otherwise utilize any services offered, they are simply requesting more information on the franchises or business opportunities listed. Please review the full advertisement before responding.
Submit Now to Get a FREE eBook - Read More
Transitioning from Employee to Entrepreneur
"
... a step-by-step guide to help you make the transition from the employee culture to that of the entrepreneurial world. This book is a complete toolkit and user's guide for success for everyone who dreams of starting his or her own business.
"
Receive FREE Franchise Info
About SNAP Fitness Franchise
Selected Companies:
Loading request list...
You Contact Information