Start A Business Weekend
Register Free Start A Business Weekend virtual event! You'll get it all! From new business opportunities to live networking to the secrets behind funding.The event will take place on Thursday March 26th, Friday March 27th & Saturday March 28th. SIGN UP TODAY!!
---
| | | | |
| --- | --- | --- | --- |
| Cash Investment: | $1 | Investment Range: | $1 |
| Franchise Fees: | $1 | Training & Support: | Yes |
| Franchise Units: | 10000+ | Financing Available: | Yes |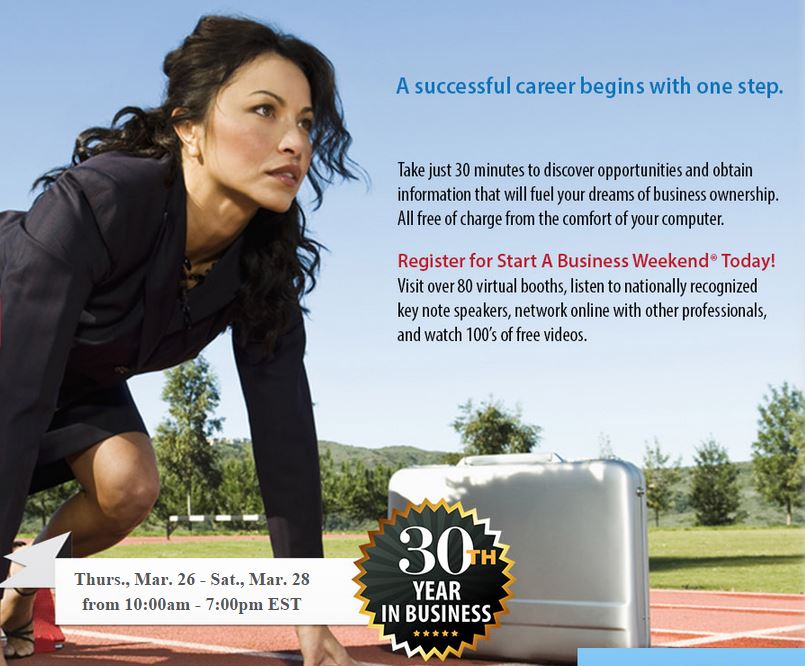 Start a Business Weekend FAQ
Q: Who should attend the Start a Business Weekend?
Anyone with a dream of owning their own business or expanding their current holdings will benefit from investing a bit of their free time to help secure a better future for themselves and their family.
Q: What can I gain from attending this free networking event?
You will receive complimentary educational materials about franchising in general and very specific business opportunities. You will have the opportunity to meet key representatives from some of the most prestigious organizations who have experience at helping new business owners get started. You will meet business coaches who are dedicated to you in discovering opportunities that meet your unique goals, needs and expectations.
Q: Who will be at the Start a Business Weekend?
Hundreds of people just like you will be able to meet with dozens of franchise companies and business opportunities with well recognized names as well as some "up and comers." Several Entrepreneur's Source business coaches will host the weekend event, give free educational keynote sessions and meet with the conference attendees when requested.
Q: How do Business Consultants/Coaches get paid?
Each person who registers for the Start a Business Weekend will be assigned a highly-trained Entrepreneur's Source Coach. They work very much like a Real Estate broker who provides a lot of assistance and answers many questions about the right fit and financing, but they only get paid once your find the right business for you. And, that payment to coach comes from the franchise company, not you!
Q: What is The Entrepreneur's Source?
The Entrepreneur's Source was launched in 1984 as a way to help people discover businesses and franchise opportunities. Today the "E-Source" is a franchise network made up of approximately 300 independent consultants/coaches helping over 10,000 people monthly discover new business opportunities. All E-Source Coaches are graduates of the E Source Academy, which offers intensive training on coaching skills, franchising and self-employment issues. The Entrepreneur's Source success is consistently recognized by Entrepreneur magazine within their annual Franchise 500 rankings and by the International Franchise Association trade organization.
Q: Are there any costs or obligations to attend the Start a Business Weekend?
There is absolutely no cost or obligation to attend any of our conferences, either in person or virtually from the comfort of your own home or office. We highly encourage prior registration so that we can have plenty of free hand-out materials for everyone and introduce you to your new E-Source Coach who will help guide you through the event.
Q: Why should I consider franchise opportunities?
For anyone considering self-employment or starting a new business, franchises have several and compelling powerful characteristics. Franchises offer complete business format systems and intensive training that allows someone to quickly start a business and become operational. Franchises offer time-tested, proven systems so you do not have to "reinvent the wheel" and you benefit directly from many others having used the same system in other markets. Franchises promote and protect a brand that benefits all involved in the on-going growth of that business. Franchise companies offer many support and training services to their franchisees as a means to greater efficiencies and financial results. Franchise companies and existing franchisees offer a historic track record to individuals who wish to explore what the result of owning that franchise business may be. All of these things combined also typically make it easier to obtain business funding before you start, and easier to sell when you want to move on to something new.
---
Franchise User Reviews
Loading... please wait...
---
People Who Viewed Start A Business Weekend Also Submitted for These Franchises
Sorry, no records to display!
News / Press Releases for Start A Business Weekend
Browse Related Franchises by Industry
Please Note: This Start A Business Weekend advertisement, and all other franchise opportunities, franchises for sale, business opportunities, businesses for sale, franchise financing providers, and other advertisements on this website should not be considered an offering or solicitation, and they are not recommended, endorsed, or approved in any way by Franchise Buy. All listings and advertisements on this website are submitted to Franchise Buy by the franchise, business opportunity, business for sale or other advertiser, and that information is relied entirely on for the truthfulness and accuracy of the information provided. Franchise Buy has no stake in these companies, and have not independently verified any of the information submitted, no responsibility for its accuracy or completeness is assumed by Franchise Buy. Persons submitting the inquiry form are under no obligation to purchase or otherwise utilize any services offered, they are simply requesting more information on the franchises or business opportunities listed. Please review the full advertisement before responding.
Submit Now to Get a FREE eBook - Read More
Transitioning from Employee to Entrepreneur
"
... a step-by-step guide to help you make the transition from the employee culture to that of the entrepreneurial world. This book is a complete toolkit and user's guide for success for everyone who dreams of starting his or her own business.
"
Receive FREE Franchise Info
About Start A Business Weekend
Selected Companies:
Loading request list...
You Contact Information