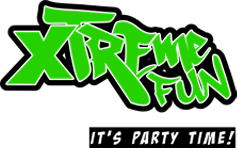 THE XTREME FUN INTERACTIVE ENTERTAINMENT FRANCHISE OPPORTUNITY
We understand that when it comes to choosing a business opportunity or party event franchise, there are several options available to you. Xtreme Fun sets itself apart from other companies with its excellent business model and support.

Excellent Client Service Through Exceptional Training

The Xtreme Fun franchise opportunity provides the utmost in client service. Our training system provides you with invaluable experience and the confidence to handle any party event business situation. We also provide telephone support, video training modules, and email templates to answer the most frequent questions you may encounter on a daily basis in operating your Xtreme Fun business.
Marketing Strategy
Our marketing strategies have been created to generate excitement. Your event entertainment business will flourish by word-of-mouth endorsements from loyal clients. We will share our techniques for reaching the ideal clients in an affordable and effective manner. Xtreme Funis one of the most affordable and best entertainment business ideas in the franchise world.
Being a DJ is Awesome Fun!
"DJing" has taken on new meaning in the 21st century. With the emergence of new hardware and software technologies, the opportunities are almost limitless, but it can be challenging to keep up with all of the changes in technology. That's where Xtreme Fun comes in. Our franchise training equips you to take your Xtreme Fun business to the next level and beyond. We're talking about comprehensive, real-world training from our experienced DJ instructors.

Xtreme Fun is one of the very few party event franchise companies in the world offering DJ training to their franchisees in combination with an entire party event entertainment business format.
Our DJ party events captivate crowds by including many genres of music to accommodate whatever party theme your client selects.
We offer a flexible and affordable DJ package to our Franchisees. No matter what your client's budget, you will have an affordable Xtreme Fun DJ party program to offer.
Photo Booth: "A Picture is Worth a Thousand Words."
Photo booths are all the rage at weddings, birthday parties, and corporate events. They have become an ever-growing part of party event entertainment offering guests the chance to come away with enjoyable personal souvenirs.
Our Team
| | |
| --- | --- |
| | Taking the time to create and express our business culture has allowed us to define the type of people we hire to be part of the Xtreme Fun Team. Our philosophy and selection of employees creates a client experience unattainable by our competitors. These values originate from our founder, Scott Feld, who has spent the past 20 years in the party event entertainment business expanding the Xtreme Fun business model and developing a client list of global-brand companies including Sea World, LEGOLAND, and The San Diego Padres. We do not require business or party event entertainment experience to purchase an Xtreme Fun franchise. Just bring your enthusiasm and determination; we will provide the training and support to put you on the path to success. |
XTREME FUN FRANCHISEE TRAINING AND SUPPORT
Relationships with our Franchisees and with their clients are at the heart of who we are at Xtreme Fun. Therefore, how we train and support our Franchisees to execute the Xtreme Fun promise of delivering "value every day" remains one of the core tenets of our system. Because we lead our industry in the innovation of new party event activities, our parties will always stay exciting.

The Xtreme Fun Team is there when you need us. Our ongoing support differentiates us from other franchisors. We look forward to helping with all parts of your business and facilitating your growth.

Fill out the form to the right for more information!