Zoup! Fresh Soup Company Franchise
Zoup! is the leading fast-casual soup concept restaurant that is defining the category with its premium and proprietary soups as well as sandwiches and salads.
---
| | | | |
| --- | --- | --- | --- |
| Cash Investment: | $129,000 | Investment Range: | $375,900 - $576,400 |
| Franchise Fees: | $39,900 | Training & Support: | Yes |
| Franchise Units: | 50 | Financing Available: | Yes, via third party |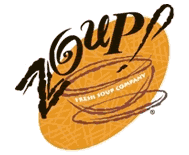 What is Zoup?!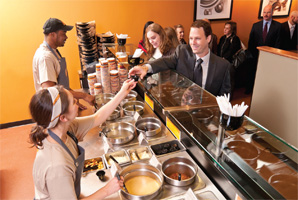 We're the leading fast-casual soup restaurant concept, defining the category with our award-winning soup, salad and sandwiches.
Each location offers 12 always-rotating soups each day from our collection of hundreds of
proprietary recipes.
We also offer made-to-order GreenZ! Salads, SandwichZ!, TryTwo! Combos and Zoup! Catering. "Something for Everyone" nutritional options include low-fat, dairy-free, vegetarian, and gluten-free.
Why Choose Zoup!
With the same "Everything Matters" philosophy that ensures quality, satisfaction and convenience for our customers, Zoup! has created the systems and support programs that give franchisees the tools they need to build their own successful business.
Our brand also offers:
Lower cost of entry and shorter hours than other restaurant concepts.
Simplified menu requires little prep work and allows for a "front of house" focus.
Strong niche positioning consistent with consumer preferences.
Strategic and authentic culture provides a foundation for running the business and attracting team members and customers.
What is Fueling Zoup!'s Strong Growth?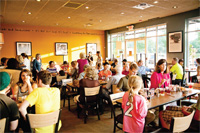 As the creator and leader of the soup-differentiated category of the fast-casual segment, we have strong
niche positioning and the proven ability to get ahead of diners' preferences for affordable, healthy meals
served in a comfortable, casual setting.
The fast-casual segment of the restaurant industry is the only segment that has grown year-over-year since 2007.
Eighty-five percent of consumers surveyed said they eat at fast-casual restaurants at least once a month.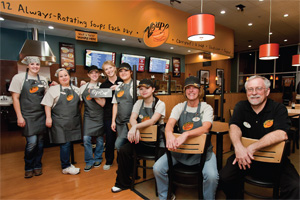 Ideal Candidate
Zoup! is a great franchise opportunity for someone that is very organized, works well with systems and enjoys working with people. No restaurant experience is required, however management experience is a must for motivating a team of 12 part-time employees.
Fill out the form on the right to be connected with a Zoup! representive today!
---
Franchise User Reviews
Loading... please wait...
---
People Who Viewed Zoup! Fresh Soup Company Franchise Also Submitted for These Franchises
Sorry, no records to display!
Browse Related Franchises by Industry
Please Note: This Zoup! Fresh Soup Company Franchise advertisement, and all other franchise opportunities, franchises for sale, business opportunities, businesses for sale, franchise financing providers, and other advertisements on this website should not be considered an offering or solicitation, and they are not recommended, endorsed, or approved in any way by Franchise Buy. All listings and advertisements on this website are submitted to Franchise Buy by the franchise, business opportunity, business for sale or other advertiser, and that information is relied entirely on for the truthfulness and accuracy of the information provided. Franchise Buy has no stake in these companies, and have not independently verified any of the information submitted, no responsibility for its accuracy or completeness is assumed by Franchise Buy. Persons submitting the inquiry form are under no obligation to purchase or otherwise utilize any services offered, they are simply requesting more information on the franchises or business opportunities listed. Please review the full advertisement before responding.
Submit Now to Get a FREE eBook - Read More
Transitioning from Employee to Entrepreneur
"
... a step-by-step guide to help you make the transition from the employee culture to that of the entrepreneurial world. This book is a complete toolkit and user's guide for success for everyone who dreams of starting his or her own business.
"
Receive FREE Franchise Info
About Zoup! Fresh Soup Company Franchise
Selected Companies:
Loading request list...
You Contact Information