elements fitness | BalanceDiet Center Franchise
Tap into the 70 Billion Dollar wellness industry with our award-winning diet and women's fitness brands! elements fitness and BalanceDiet are two fast-growing concepts, backed by an expert team and exclusive product lines.
---
| | | | |
| --- | --- | --- | --- |
| Cash Investment: | $40,000 | Investment Range: | $40,000 |
| Franchise Fees: | $40,000 | Training & Support: | Yes |
| Franchise Units: | 15 | Financing Available: | Yes |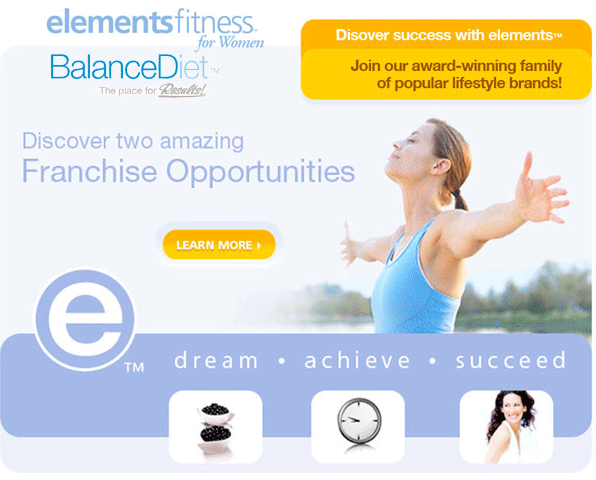 Discover 2 award-winning franchise opportunities!
elementsfitness® | BalanceDiet™ Club
Tap into the fast-growing 70+ Billion Dollar fitness and wellness industries with our award-winning lifestyle concepts!

Miami-based elements is a multi-million dollar family of lifestyle brands, featuring acclaimed online magazines, product lines, and two award-winning franchise opportunities... elementsfitness® and BalanceDiet™ Clubs. These franchises can be opened independently or combined, creating a unique investment opportunity!



Discover our fast-growing weight loss brand, BalanceDiet™.

Contemporary design and multiple revenue centers make this an excellent franchise opportunity for all markets.

High Margins from both products and services, with no prior industry experience needed!


Get started quickly with this easy-to-own model. Total opening costs $70-100k with financing available!

Discover elementsfitness® , our award-winning health brand for women!
Tap into a popular niche market with elements! Fitness for women is the fastest growing market segment,
and is benefiting tremendously from corporate and workplace wellness initiatives.

As an elements franchisee, you will profit from the sale of memberships, personal training, premium services, retail products and more! Full Financing is available for Qualified Applicants! (club size 5,000-10,000 sq ft)
Total Opening Cost varies: $250k - 750K+. International Opportunities Available.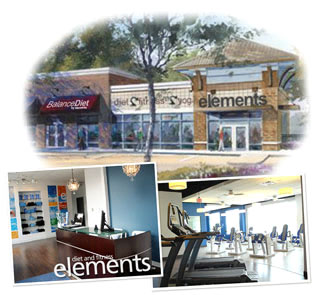 Work with one application and one franchise development team to decide which concept is right for you.
Both franchise brands share similar marketing, technology, sales and POS platforms... making expansion and multiple unit rollouts easy!
Our second-to-none marketing tools include eTV (elements TV network™), elements living™ magazine, All-Star Fitness Experts, and branded retail lines. elements™ is a top ranked fitness brand within the industry with consumers. (*elements™ franchisees can open a BalanceDiet Center within their elements club for one franchise fee)
Full training and expert support provided including:
Site Selection and Lease Negotiation

Design and Construction

Financing Available

Personal Business Coach and National Coaching

No Experience Required

On Site Assistance

Multi-Million Dollar Online Tools

Product Training and Distribution
Regional Developer Opportunities Available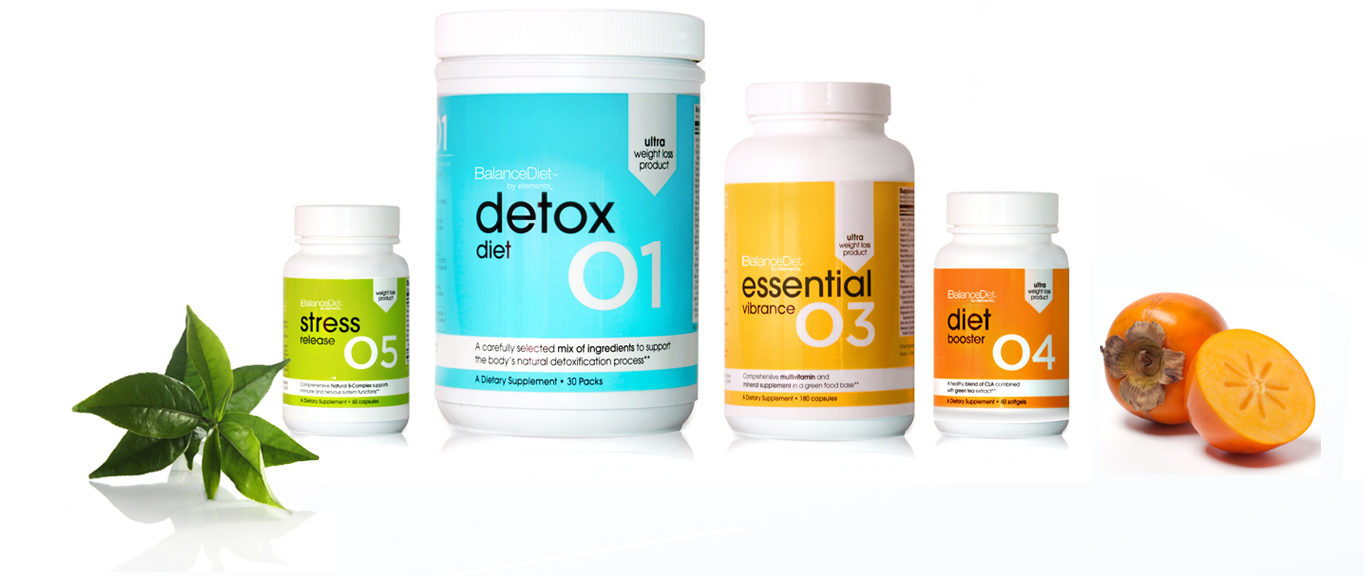 Consider your Potential...
Weight Loss and Diet are a

$64+ billion dollar marketplace

, with continuous growth annually

Open a

BalanceDiet™ Center for just $70K!

Start an elements gym from $250K!
Full Financing Available for Both Brands
elements™ and BalanceDiet™ both offer multiple re-occurring Revenue Centers

Acclaimed Franchise Support and Training Programs and expert support team

The elements family of brands has shown consistent growth and profit

We deliver a unique customer experience, in a popular niche market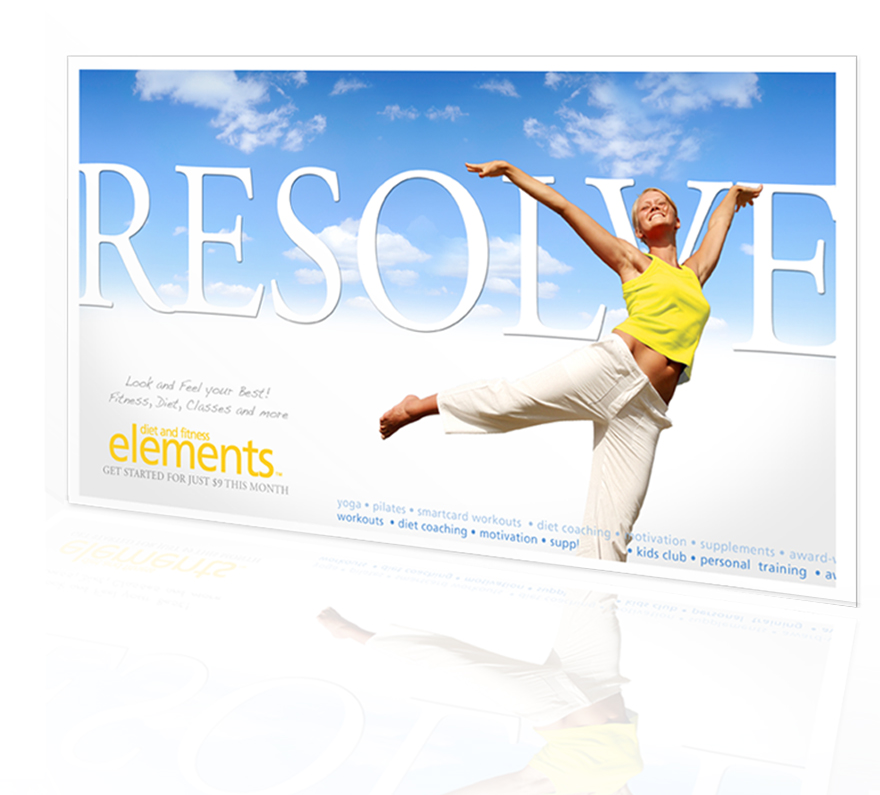 ---
Franchise User Reviews
Loading... please wait...
---
People Who Viewed elements fitness | BalanceDiet Center Franchise Also Submitted for These Franchises
Sorry, no records to display!
News / Press Releases for elements fitness | BalanceDiet Center Franchise
Browse Related Franchises by Industry
Please Note: This elements fitness | BalanceDiet Center Franchise advertisement, and all other franchise opportunities, franchises for sale, business opportunities, businesses for sale, franchise financing providers, and other advertisements on this website should not be considered an offering or solicitation, and they are not recommended, endorsed, or approved in any way by Franchise Buy. All listings and advertisements on this website are submitted to Franchise Buy by the franchise, business opportunity, business for sale or other advertiser, and that information is relied entirely on for the truthfulness and accuracy of the information provided. Franchise Buy has no stake in these companies, and have not independently verified any of the information submitted, no responsibility for its accuracy or completeness is assumed by Franchise Buy. Persons submitting the inquiry form are under no obligation to purchase or otherwise utilize any services offered, they are simply requesting more information on the franchises or business opportunities listed. Please review the full advertisement before responding.
Submit Now to Get a FREE eBook - Read More
Transitioning from Employee to Entrepreneur
"
... a step-by-step guide to help you make the transition from the employee culture to that of the entrepreneurial world. This book is a complete toolkit and user's guide for success for everyone who dreams of starting his or her own business.
"
Receive FREE Franchise Info
About elements fitness | BalanceDiet Center Franchise
Selected Companies:
Loading request list...
You Contact Information