Ice Cream & Frozen Yogurt - the All American Way!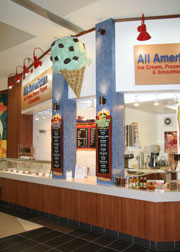 An All American Ice Cream & Frozen Yogurt shop is a fun enterprise that appeals to a wide consumer base, needs a minimum amount of inventory and is a cash business that is relatively easy to operate. All American stores do not require long hours, a large staff or a substantial facility. This concept is a low-stress alternative to the typical restaurant and is ideal as a family owned business or for the executive entrepreneur who wants to manage multiple stores.
All American operates with a simple premise; offer high quality food in an inviting environment at a competitive price, served by friendly, well trained employees.
All American's proprietary premium high butterfat ice cream and non-fat frozen yogurt are delicious treats enjoyed by people of all ages. In addition to ice cream and frozen yogurt, our stores feature juice smoothies, fresh baked cookies, soft drinks and bottled beverages.

All American Ice Cream & Frozen Yogurt shops are located in regional shopping malls, neighborhood "strip" centers and specialty retail locations. Our stores have a bright and contemporary design that attracts and maintains a wide and varied customer base.
You have made a smart move by checking out All American. We offer several types of opportunity depending on your personal business objectives, your time commitment and the location of your All American store.
Our extensive training program is designed to equip you for success and consists of classroom and in-store training, covering:
Store operations

Hiring & training staff

Human resource management

Accounting principles

Equipment operation

Advertising & marketing strategies

Purchasing procedures

Inventory control

Customer service
We will lead you step by step to a successful and fulfilling business. If you have the ambition and drive to own your own All American Ice Cream & Frozen Yogurt shop, we would like to hear from you today! As your franchise partner, we will provide personalized business consultation, high quality foods, hands-on training, appealing store designs and proven sales promotions.