Ambit Energy Independent Consultant
Learn how everyday individuals are profiting immensely from the $500 BILLION WEALTH TRANSFER created by the deregulation of energy in America.
---
| | | | |
| --- | --- | --- | --- |
| Cash Investment: | $459 | Investment Range: | $459 - $500 |
| Franchise Fees: | $459 | Training & Support: | Yes |
| Franchise Units: | 1000 | Financing Available: | No |
Ambit Energy offers you an income opportunity like no other.
Take control of your financial future. As an Ambit Energy Independent Consultant, you can make money by helping people save money on products they have to buy every month - electricity and natural gas.
The Perfect Business.
The deregulation of energy markets across the country means you can:
Earn unlimited income
Work flexible hours
Get paid in the future for work you do now
Work from home
Spend more time with family and friends
The Perfect Product.Everyone uses energy. You simply enroll Customers to use Ambit Energy service and earn income month after month.
No inventory
No deliveries
No collections
No Selling
Save People Money. Help Save the Planet.
Ambit Energy offers competitive rates on our residential energy service plans, including Ambit Certified Green plans, which are certified by the Green-e® Program to reduce the environmental impact of the energy our Customers use.
Be your own boss.
With Ambit, you can earn unlimited income while you set your own hours and work from home.
Company Highlights
Fastest growing retail utility provider in the United Sates today and was named the fastest growing privately held company in America (2010)!The company is also the 13th Largest Direct Selling Company in the world based on global wholesale revenue (Direct Selling News' Global 100 – 2015)
$1.2 Billion in company sales in 2016 (10th full year in business)
Company Run Rate is $50 MILLION in sales revenue every TWO WEEKS
Over $90 MILLION paid in commissions for 2016 alone
Over $700 MILLION in commissions paid over the past 10 years
Maintains an 'A+' rating with Better Business Bureau
#1 in Customer Satisfaction by J.D. Powers & Associates in Multiple States (Only Retail Provider to win multiple #1 rankings within the same year)
No prior sales experience required
No products to inventory
No delivery
No collections
Mentorship and training program
Uncapped income potential
Flexible hours and work location
You are allowed to market anywhere, as we have open territories with no restrictions
Recession Proof Industry
Energy Deregulation is the largest transfer of wealth in our nation's history. The US market alone is over 464 BILLION dollars. Our company is in massive expansion mode and we need partners in our emerging and new markets.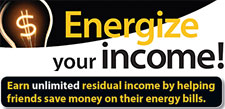 ---
Franchise User Reviews
Loading... please wait...
---
People Who Viewed Ambit Energy Independent Consultant Also Submitted for These Franchises
Sorry, no records to display!
Browse Related Franchises by Industry
Please Note: This Ambit Energy Independent Consultant advertisement, and all other franchise opportunities, franchises for sale, business opportunities, businesses for sale, franchise financing providers, and other advertisements on this website should not be considered an offering or solicitation, and they are not recommended, endorsed, or approved in any way by Franchise Buy. All listings and advertisements on this website are submitted to Franchise Buy by the franchise, business opportunity, business for sale or other advertiser, and that information is relied entirely on for the truthfulness and accuracy of the information provided. Franchise Buy has no stake in these companies, and have not independently verified any of the information submitted, no responsibility for its accuracy or completeness is assumed by Franchise Buy. Persons submitting the inquiry form are under no obligation to purchase or otherwise utilize any services offered, they are simply requesting more information on the franchises or business opportunities listed. Please review the full advertisement before responding.
Submit Now to Get a FREE eBook - Read More
Transitioning from Employee to Entrepreneur
"
... a step-by-step guide to help you make the transition from the employee culture to that of the entrepreneurial world. This book is a complete toolkit and user's guide for success for everyone who dreams of starting his or her own business.
"
Receive FREE Franchise Info
About Ambit Energy Independent Consultant
Selected Companies:
Loading request list...
You Contact Information