About Us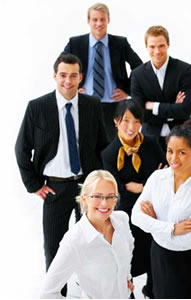 Master Your Fortune and Your Future
Anago Cleaning Systems is one of world's leading commercial cleaning franchise companies, offering both Master Franchise and Janitorial, or Unit Franchise business opportunities.
Since 1989, Anago has been perfecting a success system that leverages technology plus the power of pride in business ownership that puts the power of Commercial Janitorial Franchising in your hands.
For Anago Franchise Owners, the proven model means one of the fastest, most risk-free success vehicles in the entire franchise industry. When you purchase an Anago Master Franchise, you are helping to secure a future in a recession-resistant, exploding industry. Commercial cleaning services are more in demand today than they ever have been.
Your Future Starts Today!
---
Master Franchises
As an Anago Master Franchise Owner, you act as the Regional Franchise Owner with exclusive rights to the Anago system in your territory. That is, you will sell, orient, and support Unit Franchise Owners in your region using our concepts and methods. Unit Franchise Owners operate distinct businesses in their territories and perform day-to-day operations. As a Master Franchise Owner, you are not in the cleaning business, you are in the franchising business.
We provide you with everything you need:
Site selection assistance for your new Anago Regional Office.

Live training at your new Anago Regional Office.

Computer software and training.

Intensive support during the start-up period.

Call center support.

Sales and Operations training.

Ongoing support for all aspects of your business.
What does it take to become a Master Franchise Owner?
The financial requirements are as follows:
Master territories are priced at $89,000

Master Franchisees must have access to liquid capital of $197,000 - $298,000 including the Franchise Fee

You will need $10,000 to set up your office. You will be selling franchises and cleaning contracts upon opening, thereby decreasing the amount of working capital you will need.
Fees to the Franchisor are as follows:
Five percent royalty on recurring monthly collections only

A one-time flat fee of $400 for every Unit Franchise sold

One percent administrative support fee on total monthly collections.

All fees paid to the Franchisor are collected from the Unit Franchisee.
What will you need beyond the financial requirements to start your own business as a Master Owner with Anago Cleaning Systems?
You will need approximately 1,000 square feet of office space located near a major highway, in an office park or a multi-tenant building

There are four key tasks in a Master Office, with Master Owner taking on one or more of the positions of: Office Administrator/Customer Service, Unit Franchise Sales, Client Sales, Telemarketer.

Initially, Master Owners just need an Administrative Assistant and a Telemarketer, and have no problem taking on the other tasks listed above in order to keep overhead low.
Are you a successful mid to senior level executive with a strong sales and marketing background who is interested in moving into business ownership? The commercial cleaning industry is booming, and should you meet our financial requirements we will teach you everything you need to know to succeed as an Anago Master!
---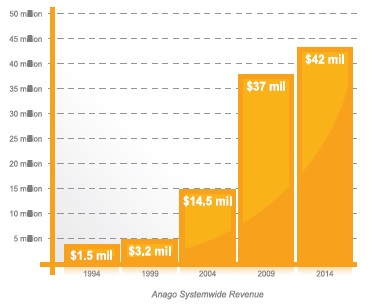 Unit Franchises
As a Unit Franchise Owner you will join the thousands of other Anago Franchise Owners that are currently cleaning some of the best known clients in the nation. Your Anago Regional Office handles most of the administrative tasks associated with a small business, including everything from finding clients, to estimating and setting up cleaning contracts, to billing and collections. You are able to focus on cleaning office buildings, retail stores, manufacturing facilities, and just about any other commercial property.
You will receive both initial orientation and ongoing support from your Anago Regional Office. Additionally, you will learn the ins and outs of how to build your business on a solid foundation and avoid the mistakes that isolated entrepreneurs can make. You'll learn local market dynamics from the pros and how to deliver first-class client service, leading to contract renewals and word-of-mouth referrals. You will be able to multiply your time and energy using the Anago system and that will multiply your earnings!
---
Why Anago?
As an Anago Master Franchise Owner, your business will benefit from our nationally recognized brand name, our reputation for unrivaled support on behalf of our franchise owners, and the incredible commercial cleaning solutions we offer our clients. We have set a standard for commercial cleaning companies for nearly 25 years, and our master franchise opportunity allows you to start your own business under the banner of a proven name in our industry. In terms of the best businesses to start and best franchises to own, no name carries more weight than Anago Cleaning Systems. Our top franchises are our Master Franchises, and there is one waiting for you today.
Anago Cleaning Systems stands out from other commercial cleaning franchise concepts due to the unique combination of minimal initial investment and a proven track record of producing a high-revenue business model. Ours are among the most successful franchises in any industry, and here are a few things you should know if you are considering becoming a Master Franchise Owner.
Low franchise fee; most territories priced at $59,000

We offer one of the most competitive royalty structures in the franchised commercial cleaning industry

Available Master territories across the U.S. and internationally

Initial and ongoing training and support for every aspect of your Master franchise

Low overhead and fast ramp up

Anago has consistently been ranked as one of the Fastest Growing Franchisees in the U.S. by Entrepreneur Magazine

Franchise Business Review has repeatedly named Anago a winner of the Franchise Satisfaction Awards

Anago has landed on Inc. Magazines "Inc. 500" list of privately-held companies in the U.S. for 2010 & 2011

The National Minority Franchising Initiative has named Anago as a Top Franchise for Minorities in USA Today

Anago was ranked #2 on 1851 Franchise Project's list of Top 10 Franchises Perfect for Keeping Weekends Free
As you can see by all of the accolades listed above, ours are among the top franchises for entrepreneurs looking to start their own business. As a successful businessperson in your own right, starting your own business as an Anago Master Franchise owner represents an opportunity to succeed at an entirely new level. Our innovation coupled with a winning formula allows Anago to remain at the forefront of our industry, and we'd like you to be a part of our success.

IMPORTANT: For those reading this advertisement, and subsequently wanting additional information about Anago Cleaning Systems opportunities, please complete the form to the right. With our receipt of your information, we will be in contact with you almost immediately to verify with you the information you have submitted. Following the verification process, you then will be contacted by Mr Jack Rotan, an affiliate of Anago Cleaning Systems a professional consultant, who will give you more information about the Anago Cleaning Systems business opportunity with no cost or obligation to you. Thank you for your interest.