Bojangles offers a FAN-tastic franchise opportunity. Our loyal Bojangles fans drive our business, and we are growing to serve them in new markets.
With approximately 785+ locations in 14 states today, there are tremendous opportunities to offer Bojangles distinctive Southern flavors in new markets throughout the southeast, Midwest, and Atlantic coast regions.
With a franchise full-service restaurant AUV of $2.1M,* long history of same-store sales growth, three strong dayparts, and unique footprint options for traditional and non-traditional locations, Bojangles provides an ideal business opportunity for ownership of single and multiple locations. Just ask our longtime franchise partners – their appetite for success and growth has created one of the most compelling business models in the QSR industry.
WE'RE BUILDING FOR THE FUTURE.

As more consumers choose fast-casual restaurants as their favorite way to dine, it is important to continually elevate how our guests experience our brand. Our new store design is an investment we have made on the part of our Franchise Owners to make our restaurants even more exciting and inviting.
BRING BOJANGLES TO YOUR HOME.

Wondering what markets are available or where Bojangles might expand the franchise opportunity in the future? We're rapidly growing across the US with many available markets today.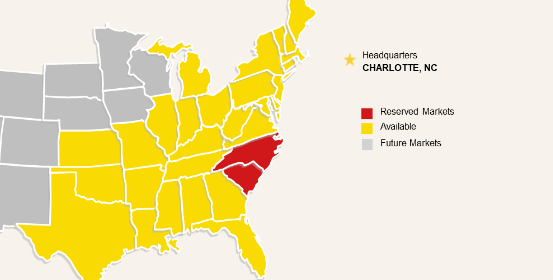 IF YOU'VE GOT WHAT IT TAKES, IT'S BO TIME®!

Bojangles is looking for business-minded individuals with restaurant management experience.

If you want to capitalize on this incredible opportunity, you should meet the following requirements:

-Commitment to develop a minimum of 3-5 restaurants to be opened within 3-5 years
-Minimum net worth of $1 Million and net liquid assets of $500,000
-Possess a successful operational background in restaurant management/ownership