Dickey's Barbecue Pit
Dickey's Barbecue Pit® Restaurant is a fast-casual barbecue restaurant based on a proven business model.
---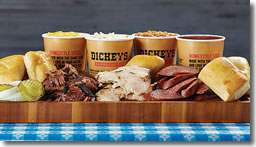 "Slow Smoked. Served Fast."
Headquartered in Dallas, Texas, Dickey's Barbecue Restaurants have been serving up some of the most mouthwatering, lip smacking, great tasting barbecue since 1941. Today, Dickey's are opening up all over North America.®
Our Philosophy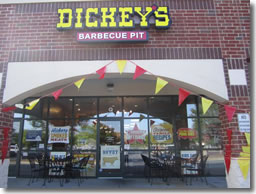 It's simple: we want to find the right Owner/Operator first. Second, we use our site selection model to find the right location. Then we assist every step of the way in building a great restaurant and setting our operators up for success.
Your Location
Dickey's has evolved over the years, changing the public's perception of barbecue and taking the category mainstream. The Dickey's restaurant concept is authentic, inviting and well planned. We aim for 1,800 sq. ft. end-cap or free standing locations to maximize the profitability of our stores.
Our Opportunity
Each new Dickey's Owner/Operator will take advantage of the decades of experience, improvements and upgrades, attention to detail and the high quality standards established and maintained by the Dickey family. The Dickey's franchise program features: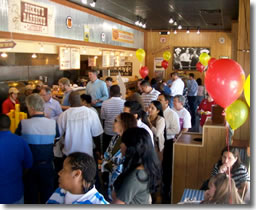 Site location assistance

Floor plan design and layout

Thorough training in management, operations and marketing

Field support and group purchasing power

Protected territories

Comprehensive accounting procedures

Turn key assistance

The knowledge and experience to help you succeed
---
Franchise User Reviews
Loading... please wait...
---
News / Press Releases for Dickey's Barbecue Pit
Browse Related Franchises by Industry
Submit Now to Get a FREE eBook - Read More
Transitioning from Employee to Entrepreneur
"
... a step-by-step guide to help you make the transition from the employee culture to that of the entrepreneurial world. This book is a complete toolkit and user's guide for success for everyone who dreams of starting his or her own business.
"
Receive FREE Franchise Info
About Dickey's Barbecue Pit
Selected Companies:
Loading request list...
You Contact Information