Flip Flop Shops
Flip Flop Shops is the authentic retailer of the hottest brands and latest styles of flip flops and sandals. It's more than just a store...it's a lifestyle.
---
| | | | |
| --- | --- | --- | --- |
| Cash Investment: | $75,000 | Investment Range: | $174,300 - $279,500 |
| Franchise Fees: | $35,000 | Training & Support: | Yes |
| Franchise Units: | 244 | Financing Available: | Yes |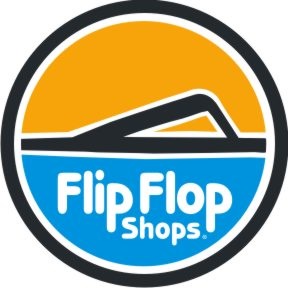 About Flip Flop Shops
Founded in 2004, Flip Flop Shops is the authentic retail chain exclusively devoted to the hottest brands and latest styles of flip flops and casual footwear from big names such as as Reef, Cobian, Sanuk, OluKai, Havaianas, Quiksilver and Roxy. Its mission is to help people "Free Their Toes®" and embrace the relaxing benefits of flip flops and casual footwear for a healthier, low stress lifestyle. In addition to being an Environmentally Responsible Retailer™, the company supports the American Heart Association through various efforts, including national participation in the Life Is Why™ June retail campaign.
The company began franchising in 2008 and now operates shops globally throughout the United States, Canada, the Caribbean, South Africa, and the Middle East. The executive team boasts more than 50 years of experience building and growing some of the world's fastest-growing franchise concepts, category leaders and some of the world's most well-known brands, including Cold Stone Creamery, Moe's Southwest Grill, Nike and OfficeZilla.com. Flip Flop Shops has been awarded the International Council of Shopping Centers' prestigious "Hot Retailer Award," and ranked for the fifth consecutive year on the Inc. 500 | 5000 list of America's fastest-growing private companies.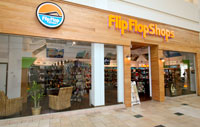 We love the water and everything about it. Whether it's surfing at Rincon with friends, or standing at the water's edge in Tofino while the waves pull the sand out from under our feet and back to the sea...we love it. We ride powder in Canada, bike the backcountry of New Zealand and raft down the Colorado. We love adventure and traveling. We keep up on the latest fashion trends and make up our own. We sometimes go to bed with salty skin and the smell of the ocean after a day of surfing. We take care of our environment and help out our favorite charities. We love music and singing along with our favorite songs.


Our flip flops are an extension of who we are and what we stand for. We live, work and play with our toes exposed while wearing the freedom of flip flops on our feet.


Own Your Own Flip Flop Shops®!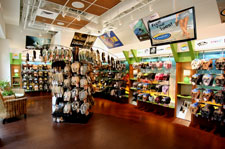 Here is your opportunity to become part of the flip flop lifestyle by owning your own Flip Flop Shops® franchise.

With over 50 years of franchise experience building and growing some of the world's fastest growing franchise concepts, category leaders and some of America's most well-known brands we now welcome you to the next great idea!

This is your opportunity to take part in one of the fastest growing and most exciting industries in the world. Flip flops and sandals are the oldest and at the same time best-selling footwear worldwide!

Usually seen only at beach resorts, flip flops and sandals "are a huge phenomenon. A few years ago you would wear them only to the beach or at the pool. Now you see them in the city, in the office, on the Red Carpet and at the Whitehouse.

The simple, little flip flops with the humble origin are making their way to the season's hottest events and onto the feet of the most coveted celebrities and VIPs.

We have created a concept where the unit economics, the industry, the trends and the lifestyle all just make sense!
We invite the right franchisees to be part of the next big idea...and have fun doing it!

Support Makes All The Difference

We provide a franchise support system designed to support all of your business needs. Flip Flop Shops is committed to providing a superior level of service to our franchisees.

With over 50 years of franchise experience, we have taken the best practices and applied them to Flip Flop Shops. More importantly, we have eliminated common mistakes made by most franchise systems. Flip Flop Shops provides a wide variety of comprehensive resources to help you achieve your professional goals. This includes, but is not limited to:
Branded Business Plan Template

Site Selection & Real Estate Expertise

In-house Design & Construction Consultation

Flip Flop University

Comprehensive Operations Manual

New Store Opening Plan

Local Store Marketing Toolkit

PR & National Brand Building Efforts

Sell-Through Analysis

Seasonal Pre-Book Support

Inventory Turn Analysis

Open-to-Buy Plan

Vendor Relations & Buying Program

Field Support

Genuine Passion to See You Succeed
Note: This franchise is not currently being offered to residents of the following states: CT, ND, RI, SD, or to individuals outside of the United States and Canada. Interested parties must have at least $75,000 in liquid capital.
---
Franchise User Reviews
Loading... please wait...
---
People Who Viewed Flip Flop Shops Also Submitted for These Franchises
Sorry, no records to display!
News / Press Releases for Flip Flop Shops
Browse Related Franchises by Industry
Please Note: This Flip Flop Shops advertisement, and all other franchise opportunities, franchises for sale, business opportunities, businesses for sale, franchise financing providers, and other advertisements on this website should not be considered an offering or solicitation, and they are not recommended, endorsed, or approved in any way by Franchise Buy. All listings and advertisements on this website are submitted to Franchise Buy by the franchise, business opportunity, business for sale or other advertiser, and that information is relied entirely on for the truthfulness and accuracy of the information provided. Franchise Buy has no stake in these companies, and have not independently verified any of the information submitted, no responsibility for its accuracy or completeness is assumed by Franchise Buy. Persons submitting the inquiry form are under no obligation to purchase or otherwise utilize any services offered, they are simply requesting more information on the franchises or business opportunities listed. Please review the full advertisement before responding.
Submit Now to Get a FREE eBook - Read More
Transitioning from Employee to Entrepreneur
"
... a step-by-step guide to help you make the transition from the employee culture to that of the entrepreneurial world. This book is a complete toolkit and user's guide for success for everyone who dreams of starting his or her own business.
"
Receive FREE Franchise Info
About Flip Flop Shops
Selected Companies:
Loading request list...
You Contact Information