Overview
Since 1982, Jackson Hewit® has grown to near 6,000 franchised and company-owned locations, including 3,000 in Walmart® stores throughout the US. Our low start-up investment offers new Franchisees the opportunity to choose their own path to success: a single tax office location or expansion into multi-units, applying a market strategy shared by nearly 75% of our system. On average, our Franchisees own and operate over seven Jackson Hewit® locations.
Jackson Hewit® is an innovator in the tax industry with a mission of offering hardworking clients access to simple, low-cost solutions to manage their taxes and tax refunds.
Why Choose Us?
Brand Strength: Jackson Hewitt® is the 2nd largest in-person full service tax preparation company in the nation; ranked #135 overall by Franchise Times in 2018 and #21 on Entrepreneur's 2018 Top Brands List.
Stable Industry: According to the IRS.gov website, over 154 million Americans filed a tax return 2018, with nearly 60% of all individual tax returns being prepared by a paid tax professional.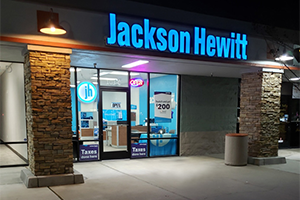 Ideal Candidate
We are seeking new Franchisees with a passion for growth and expansion. A strong business management background and/or retail experience would be valuable. Prior tax experience is ideal, but not required.
Candidates seeking second careers or an opportunity to complement current business ventures are very common.
Lifestyle Choice: Tax preparation is a seasonal business, allowing new Franchisees a flexible work-life balance.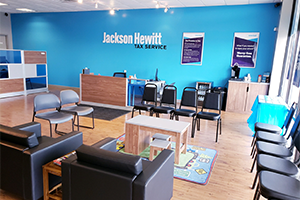 History
Jackson Hewitt® has more than 35 years' experience and operate in year-round neighborhood storefronts and seasonal kiosks in select.
Jackson Hewitt has more than 30 years' experience, we operate in year-round neighborhood storefronts and seasonal kiosks in select Walmart® stores. We've built a solid business model structured around helping millions of people prepare and submit their tax returns each year.
We also maintain strategic partnerships with brands like Walmart® and American Express®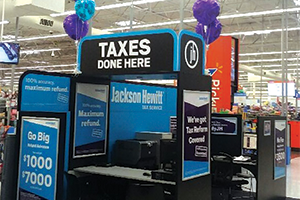 Training And Support
Jackson Hewitt® provides a five-day Franchise Initial Training (FIT) class that is designed as an instructor-led course with hands-on training, lab work, and group exercises covering every functional area of the business. The FIT class is taught by members of our Operations Team and our Franchise Integration Team, who will provide a two-year dedicated mentoring program for all new Franchisees. The Franchise Integration Team assists with operation relating to business strategy, report analysis, setting fees, staffing goals, office and system set-ups, and local marketing strategies
This information is not an offer or solicitation of an offer for a franchise.
NY Residents: An offering can only be made by a prospectus filed first with the Department of Law of the State of New York. Such filing does not constitute approval by the Department of Law. MN File: F-7505.