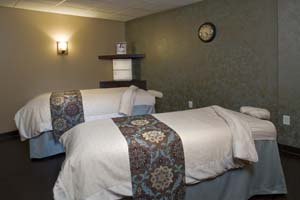 According to the U.S. Department of Labor, Bureau of Labor Statistics, between 2004 and 2014 the demand for Licensed Massage Therapists will increase 18-26%. That simply means that demand for massage therapy is growing at an explosive rate. Increased interest in massage therapy will mean incredible personal and professional growth as well as opportunities for those skilled in massage therapy. Healthcare providers and medical insurance companies are beginning for the first time to recognize massage therapy as a legitimate treatment and preventative measure for several types of injuries and illnesses alike. In addition, the health care industry is using massage therapy more often as a supplement to conventional medical techniques for ailments such as muscle problems, some sicknesses and diseases, and stress-related health problems. Massage therapy's growing acceptance as a medical tool, particularly by the medical provider and insurance industries, will greatly increase employment opportunities. Older citizens who are in nursing homes or assisted living homes are also finding benefits from massage, such as increased energy levels and reduced health problems. Demand for massage therapy should grow among older age groups because they increasingly enjoy longer, more active lives and persons age 55 and older are projected to be the most rapidly growing segment of the U.S. population over the next decade; these are the "Baby Boomers" that are now feeling all of the aches and pains of yesteryear. Ironically the demand for massage therapy is presently greatest among young adults because of their conscious levels of health, education and exposure to alternative treatments. They are in fact likely to continue to enjoy the benefits of massage therapy as they age and of course develop loyalty to our brand.
You see, when you become a Massage Heights Franchisee, you are getting involved in a business that is not a trend or a fad, the customer base is not here today gone tomorrow. You are creating a customer for life that recognizes the health benefits and acknowledges that until now, there has been no leading brand for massage services.
If you have researched other franchises you have noticed that many of them require that you invest hundreds of thousands of dollars, carry enormous inventories and most likely face several competitors in your immediate territory. With a Massage Heights franchise, you will carry little to no inventory, invest a minimal amount of money and be the first in many cases in your market with the concept that everybody's talking about.
Are You a Good Fit for a Massage Heights Franchise?
The relationship between franchisee and franchisor is critical to the long term success of any organization. From our experience, most successful entrepreneurs possess certain qualities that enable them to excel in both life and business. If you are wondering if Massage Heights franchise is right for you, or if you are right for Massage Heights, please fill out the Free Request For Information From The Franchisor.