The Ultimate Lifestyle Business
Own the Ultimate Lifestyle Business in the Booming Mobile App industry - No tech knowledge needed. Help Business Owners get more customers using Mobile Technology solutions and a whole range of Digital Services.
This business suits the serious entrepreneur wanting to make significant income while having the flexibility of a lifestyle business, while leveraging our systems, knowledge and proven processes. This is a world-class business model with full training, support and a proven track record of success.
Our Vision is to be the World's Leader in Mobile Technologies, Enabling Entrepreneurs to Increase Profits and reduce Expenses through Technology.
Finally get the income you deserve working the hours you want - from the comfort of your own home - or working from that awesome cafe down the street. Imagine being able to work from anywhere, travel while you earn money and finally make real progress towards your goals and dreams.
With a Mobile App City Distributorship you will own a business where you provide an entire range of Mobile and Digital Solutions to businesses. We do the tech work, while you focus on building the business.
We believe our Distributorship business is easily the best opportunity on the market today.
Just look at what this business offers:
- Help businesses get more customers using mobile technologies
- High Profit Potential business
- Ultra high demand services that all businesses need
- No Technical, Coding or Development Experience Required
- Designed for serious entrepreneurs wanting a great lifestyle with high returns while helping people
- No need to employ people - makes this a simple to run business
- Very Low Start-up / No Royalties / No Ongoing fees
- World-wide license that enables you to operate your business from a laptop anywhere in the world.
- Excellent Passive Income possible
- Finance available on approval
- No territory restrictions – worldwide territory
This really is the Ultimate Lifestyle Business! Fire your boss and live life on your own terms and finally make the income you deserve.
As a Distributor Partner here's what you'll get:
- Super low overhead (no royalties or fees), low risk business that's simple to run
- Passive income possible with each client you get
- Full training and support, without needing any technical skills or doing any technical work yourself (we manage the team for you)
- Finance options available
- No royalties or marketing fees
- Marketing materials provided
- Website with your own brand and logo included
Essentially everything you need to get up and running fast including training, support and on-going coaching.
You'll be helping business owners get more customers and reduce expenses in their business using the latest in mobile technologies.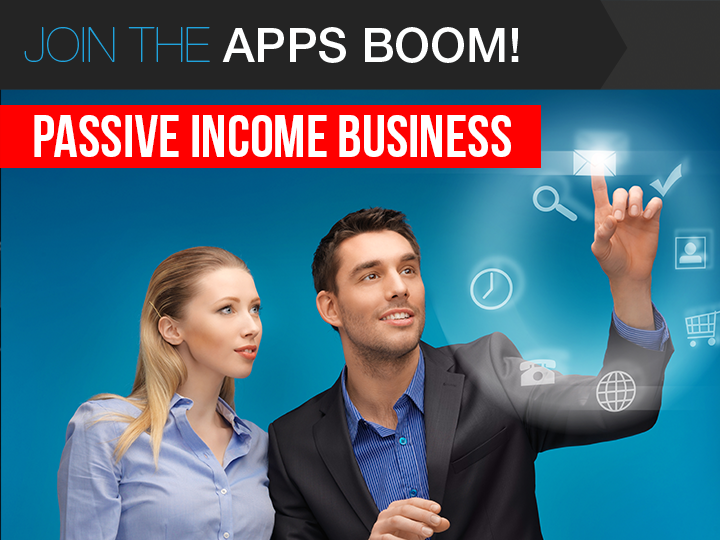 As a Mobile App City Distributor Partner you receive everything needed to get started and succeed in this booming industry including business setup, one -on-one live training and ongoing technical and marketing support. No fixed monthly fees or royalties to pay, just the one time distributorship cost that covers everything including your training.
What you'll possess:
- Passion for helping people is essential
- Business, management, marketing or sales experience a plus
- Willingness to be your own boss and build a successful business is essential
Top 5 Reasons to Own a Mobile App City Distributorship
1) Ultimate Lifestyle Business
This business has minimal overheads, no monthly fees or royalties and you can work from home if you choose. No need for employees and you can build a team of commission only salespeople if you want to multiply your income. Enjoy true flexibility to be your own boss.
With no territory restrictions you can build the business as big as you wish. You can even run it as side or part-time business while you keep a job and transition at your pace from full time employment into entrepreneurship.
2) Explosive market still in its infancy
With currently 86% of all internet access done via a mobile device, never before has the world seen a larger market with over 270 billion App downloads. This is your opportunity to get involved by selling customized Mobile Apps and a range of Digital Media Services in this ever growing market.
You won't need any technical or design experience, use our professional team to create and deliver all the services your clients' desire.

3) You help businesses increase their profits
You'll help business owners increase sales and reduce expenses in their business through Mobile Apps and the suite of available Digital Media business services. Meanwhile (quietly in the background), we do all the heavy lifting with our team.
Build your client base using our systems, support and staff while you reap the rewards.
4) World-class training and support
You won't be on your own. We understand the market and help you get fast started in this ever expanding industry. We have a powerful management platform and proven strategies that will help guide your success.
5) Have a range of Digital Media services to provide businesses
Unlike other businesses where you only have one product to sell and have to constantly find new customers, with this Distributorship you'll have a suite of products/services so you can make multiple income streams from each client.
Mobile App City is expanding its Distributorship across North America. We believe this is the best business opportunity on the market today. Complete the form and we'll send you an information pack with details on this world-class business. See for yourself how a MobileAppCity Distributorship could become your next business.
This is a simple business to get started. Investment is just $15k.
REQUEST INFORMATION BELOW TO DISCOVER HOW THIS COULD BE THE BUSINESS THAT GETS YOU THE INCOME AND LIFESTYLE YOU DESIRE.