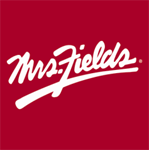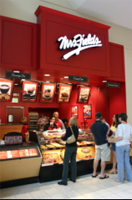 Why Mrs. Fields?
In 1977, a woman entrepreneur started a business in her kitchen with a homemade chocolate chip cookie recipe and a dream. Today Debbi Fields is a modern American classic, her name synonymous with sweetness and success, famous for custom decoration, hand-frosting, high-quality natural ingredients and a legacy carried on by a company of dedicated cookie-makers who take pride in making the Mrs. Fields experience the best it can be. And Mrs. Fields isn't just about making great cookies (although we do!); we also believe it's our job to provide franchisees with the infrastructure, resources, and industry experts to help them open and operate a successful business that will bring them joy for years to come.

Brand Benefits
Mrs. Fields is one of America's most beloved and well-known snacking brands. With our high-product recognition, the Mrs. Fields brand offers a great opportunity for prospective franchisees. Who doesn't love a cookie when wanting something sweet? Consumers voted Mrs. Fields as their Top Choice in Mall Based Snacks.


Training & Support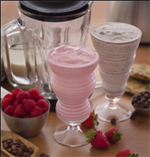 With Mrs. Fields, you have all the tools you need to offer your customers a premium product and a great experience. Franchisees have access to the Franchise Support Center and Mrs. Fields Famous Brands University, providing a central point of corporate contact as well as a state-of-the-art training facility with a wide variety of curriculums designed to help fuel the franchisee experience. From day one, a Mrs. Fields franchisee can expect to receive experienced and in-depth training as well as assistance with development, operations, construction, and marketing.

Uncompromised Quality
The finest ingredients go into every Mrs. Fields product. In fact, we still use the same delicious chocolate recipe that Debbi Fields carefully created when she started her business over 40 years ago.

Scrumptious Variety of Products
Along with our world-renowned cookies and brownies, we offer the finest cookie cakes, muffins, bagels, croissants, and Breezer® smoothies. Mrs. Fields has the perfect treat for every age and desire.
New Store Design and Options
In honor of our 30 th anniversary, a new stylish and contemporary store design was developed. The refreshed look is intended to compel consumers to stop and sample our delectable treats. Our Mrs. Fields store design can be customized to meet many of your real estate options. In-line and kiosk stores are both available.

A Tasty Investment
Mrs. Fields is a great option for entrepreneurs who want to own a cheerful business with a trusted brand name and an incredibly popular product. Third party financing assistance available and free financing consultation. Royalty Fee is 6% and the advertising fee is 2%.
This offering is made by prospectus only. Offerings are made by Franchise Disclosure Document only.