Non-stop action has made interactive inflatables a high-growth industry, transforming a hot trend into a recreational staple for kids of all ages. Now, Pump It Up™ (PIU) is taking the children's private party industry in an exciting new direction. With access to inflatables designed for our specific use within an indoor facility, Pump It Up™ is leaps and bounds above any party facility. The Pump It Up™ organization was the first to recognize the extraordinary business opportunity in taking inflatables out of the backyard and putting them into a private, indoor party zone. Are you ready to become part of this exciting opportunity?
As an owner of a Pump It Up facility you will build an organization of enthusiastic employees to operate and manage the facility. As an owner you will be focusing your efforts on employee recruitment, advertising, networking in the community and creating a safe and clean environment for childrens private parties.
What We Offer Parents Around the Country:
Interactive inflatables in a private party facility offer parents everything they need to host a great celebration. Pump It Up™ takes care of the organization, child supervision, party set-up and party cleanup. Parents can actually relax and enjoy the party too!
Investment Range: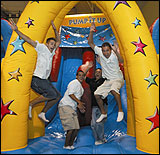 Total Investment: $197,000 - $760,000
Minimum Net Worth Required: $500,000
Our Winning Opportunity…
If you're looking for a unique, differentiated brand backed by an experienced, dedicated franchise development team, you've found the perfect opportunity! Management experience is necessary, and you should enjoy working in a children?s oriented environment. We provide the cutting-edge tools and customized support you will need to get you off to a fast start and quickly develop a successful business. As a franchisee, you'll enjoy:
A turnkey operating system
Staff training program
A step-by-step facility opening manual
Customized marketing materials
Your Own Boss, But Never Alone!
Before you open you will receive support, guidance, and training in the following areas:
The Pump It Up™ concept and culture will continuously grow through:
Compelling Marketing Materials & Promotional Ideas

New Equipment & Activity Recommendations

Interactive Website


Continuing Education & Training

Strategic Relationships with National Companies