SuperGreen Solutions is a leading a franchise in commercial energy efficient solutions, making us truly a 'one stop energy efficient solution shop'. Having been in the Energy Efficiency industry for over eighteen years the founders have established a solid reputation spanning three continents. We are different because we look at energy creation and energy saving from a holistic point of view, to provide our clients with total solutions.
As one of only a few companies having international training, experience and accreditation, the SuperGreen Solutions team is well educated to deliver the best advice and supply the latest products. Training has come from the A.B.S.A (Association of Building Sustainability Assessors), B.E.R.S. Pro (Building Energy Rating System) software training, H.I.A. Greensmart Accreditation and local LEED membership and training. This keeps us focused on achieving total energy efficient solutions to benefit all parties.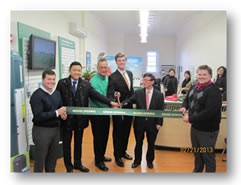 State of the art Showroom – Why not make our staff and showroom facilities an extension of your business? Builders are encouraged to send clients to our state of the art showroom, where we visually display and demonstrate the features, benefits and long term savings delivered through green products. This facility often helps clients better understand the products resulting in long term savings for all parties.
Site Selection Knowledge
The most important decision in opening your retail business is site selection. We carefully research all aspects of every
new SuperGreen site, such as traffic patterns and client potential. After all criteria are met and a location has been selected, we assist you in the negotiation of your lease and the store build-out.
Once you feel comfortable with the site selection of your new store and all lease terms are finalized, you are then prepared for ownership and the start-up process.
Product range – As long term suppliers of energy efficient products, we are acutely aware of the environment and performance requirements sought within this region. Just as the region and the needs of our client base are diverse, so too is our product range. What never alters is that our product range has been selected based on quality, reputation, proven performance and an underlying preference to products that are American made. Our products span several categories in the green and energy industries:
Training: No prior experience needed
The SuperGreen training system is one of the most extensive training programs in the franchising industry and backed by over 18 years of experience in energy efficiency and green solutions.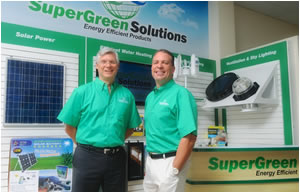 Your comprehensive SuperGreen Solutions training program includes the following:
A 2-week introductory training program at SuperGreen University located at corporate headquarters in West Palm Beach, FL. Your travel and lodging expenses are included. You will learn all aspects of your business, marketing your products, advertising, scheduling and workflow, bookkeeping, pricing orders, and providing great customer service.

Additional 1 week of training in your store with one of our experienced operations advisors. They are there with you side by side with you during the store setup as well as to implement your marketing plan and grand opening.
Ongoing Support
As a SuperGreen franchisee, you will have access to the ongoing support from a team of trained professional individuals. They are here to assist you in all areas including training, consulting, marketing, equipment, research, and technical support.
When you join the SuperGreen family, you will experience the satisfaction of owning your own business while enjoying the benefits that come from being part of a global brand businesses already know and trust.
History
As part of the United Franchise Group, our growing franchise family headquartered in West Palm Beach, FL SuperGreen Solutions has over 160 employees at corporate headquarters and the 14 regional offices throughout the United States, Canada, and Australia. Master Franchise Partners are growing in countries such as the United Kingdom, New Zealand, South Africa, Asia, Spain, France, Thailand, India, Portugal, and the Netherlands.
Master License Opportunities Globally
We also award very unique MASTER LICENSE opportunities for targeted countries/regions to qualified individuals and companies.
A master license grants the owner the exclusive development privileges for the brand and generates a very positive cash flow stream from the selling of franchises and collecting royalties. To learn more about this special opportunity, please fill out the short form below and we will contact you soon!