Here's the Scoop: TCBY and Mrs. Fields Have Over 30 Years of Franchising Experience

READY FOR A TASTY ADVENTURE? YOU'VE COME TO THE BEST PLACE.
Our name stands for The Country's Best Yogurt. That sentiment was true back when we started in 1981, and it's still true nearly 40 years later. TCBY continues as the frozen yogurt category leader in the $8 billion "FroYo" industry, with an impressive brand awareness that's over 90%. And TCBY isn't just about making great frozen yogurt (although we do!); we also believe it's our job to provide franchisees with the infrastructure, resources, and industry experts to help them open and operate a successful business that will bring them joy for years to come.
THE FIRST POWERHOUSE BRAND LOVED BY CUSTOMERS FOR 36 YEARS TCBY:
Outpaces all frozen yogurt brands in consumer awareness

Has the highest positive brand impression among its competition

Is the most frequently visited frozen yogurt store

Flavors and toppings are celebrated by customers as indulgent and healthy
What makes TCBY so smart?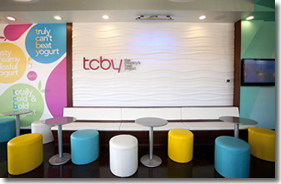 Operations/Field Support Services
Field-based support professionals dedicated to business operations and store profitability

Regular, ongoing franchise location visits to consult, educate, and coach on best-in-class business practices

Expert employee training and staffing
Marketing Services
Marketing plan for new store opening to help create awareness and trial

Ongoing marketing plan and strategy to help attract new customers while maintaining current regular customers

Marketing strategies that emphasize owning the community through local store marketing activities

National Marketing Fund to combine funds from all of the TCBY franchise locations to build and maintain our exceptional brand awareness and preference

Advertising fund fee is 3%

Royalty fee is 6%
Training
Comprehensive curriculum that includes education on products, equipment, store operations, marketing, staffing, accounting, and loss prevention

Ongoing support of product and promotional launches

Ongoing support via the company's eLearning platform

National POS platform with comprehensive system support


Store Development
Real estate team to assist with market planning and site selection

Proprietary site evaluation tool

Construction and store opening team to assist with entire store opening process

Third party financing assistance available, free financing consultation.
Delicious and Nutritious. All TCBY products are made with real dairy yogurt, contain active cultures (probiotics), vitamins A & D, fiber, protein, and a generous supply of calcium. It's easy to see why TCBY frozen treats are perfect for today's health-conscious and informed consumers. In fact, TCBY sets the industry standard with "Super Fro-Yo" nutritional delivery. And most products are low in fat, with many fat-free and sugar-free options, so virtually everybody can find the perfect treat.


It's the hottest opportunity in frozen treats. There's never been a better time to own a TCBY franchise. With consumer demand for frozen yogurt growing every year, and innovative developments that are attracting more customers than ever, this is a business opportunity that won't experience a melt down. And right now, TCBY has locations available across the country. Convenience stores and other small format nontraditional locations are considered on a case by case basis. So take a close look and we're sure you'll agree: TCBY franchise ownership looks better than ever!

This offering is made by prospectus only. Offerings are made by Franchise Disclosure Document only.