Build a Lasting Legacy for You and Your Family
We are Mosquito Authority, and we're happy to be the exception, not the rule. In a world of cut-throat, money-motivated business types, we stand out. We are not a huge corporation that's been bought for a price. We don't have board meetings or wear business suits. And we aren't in it just to make a quick buck. We are a group of the most dedicated, passionate individuals you will ever meet.
Mosquito Authority is a leader in residential mosquito control. Last year our franchisees performed over 500,000 residential treatments. Give yourself the best opportunity for long term success by selecting a company to become a franchise partner with that offers world class support, tools, coaching and access to an outbound call center that will close sales for you.
Why Mosquito Authority?
Residential Mosquito Control is a Trending Franchise Opportunity

Own a Recurring Revenue Business That Produces Proven Profitability

Follow a Proven System with Proven Results

More Control, More Freedom
How Are We Different?
At Mosquito Authority, we don't just kill mosquitoes. Our mission is to help protect you and your family from mosquitoes and the diseases they carry, and we take the confidence you place in us very seriously. That's why we do mosquito control differently:
No Mosquitoes. GUARANTEED. Or we'll cheerfully refund your money.

No Contracts, No Commitments. You can cancel anytime just by letting us know.

Retention Matters. Our franchisees retain up to 90% of their recurring customer base.

What You'll Receive
World Class Training: Within the first month, you and your team will receive 3 days of training that includes everything you need to know to get on the path to success. It doesn't stop there, you will then have access to our cloud based training and communication platform to access all of our processes; 24/7.
Exclusive Management Cloud-Based Software: Our exclusive, industry leading cloud based software, Dispatch Plus, cloud based software allows you to operate and manage your business from wherever you can access the internet. Dispatch Plus is owned and developed by Mosquito Authority- exclusively for our franchisees.
Ubiquitous Online Presence & Marketing: When it comes to marketing, both traditional and online- including your social reputation, Mosquito Authority is second to none. You will receive a localized web presence that includes cutting edge SEO technology to maximize prospects searching for your service organically, via PPC or reviews on social sites. And, they are all managed for you - for proven new customer acquisition results.
Customer Acquisition Via Our Call Center: Our National Call Center is available for you to access best in class customer service and add new customers to your growing business. We are the only company in the mosquito control industry to offer a world class national Call Center that will acquire new customers for your business.
Industry Leading Science Department: Mosquito Authority is also the only mosquito control franchise offering that gives you access to our own Chief Science Officer and fully functional field laboratory. Our franchisees have exclusive access to our own renowned entomologist and science department. This assures your customers continually receive... the safest and most effective protocols available.
Personal Success Coaching: You will be introduced to your Personal Success Coach at Franchise Training. For the first year of owning your franchise, you will access your own coach that will help you follow our game plan to win. Mosquito Authority's Personal Success Coaching is only available with our franchise opportunity- it will be a game changer for you!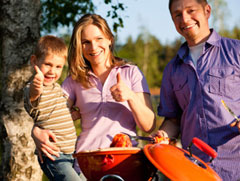 Our Territories Go Fast - Act Now!
Our franchisees operate successful territories in their own community as well as several states away from their home office. Our cloud-based management system and proven processes allows you to do the same. Territories are selling quickly, there is still time to own your own successful territory. Many others have taken control of their future with a successful Mosquito Authority franchise. You can too, the first step is yours, contact us today below.
Whether you're ready to join the Mosquito Authority family, or just looking for additional information, we want to hear from you.