A Healthy Investment!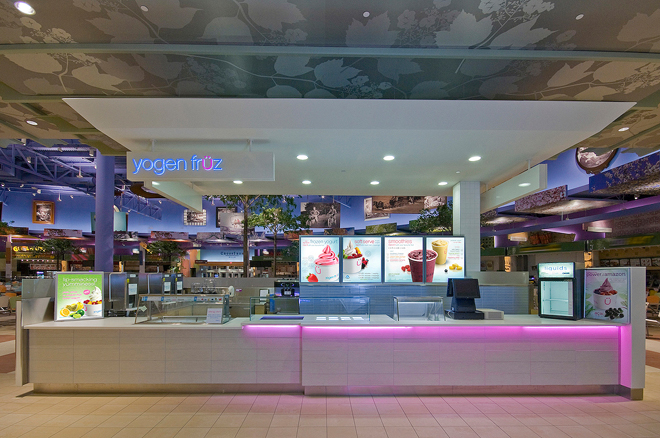 Yogen Früz is the largest franchisor and licensor of stores and other locations serving primarily frozen yogurt, through company-owned, franchised and non-traditional partnership locations, with over 1,400 locations operating in over 42 countries worldwide.

On average, three new outlets open each week, somewhere around the world – a pace destined to increase dramatically in the years ahead. Our growth rate is among the fastest of any franchisor in the world.
Our partners are important to us. We are committed to franchising, maintaining a highly collaborative relationship with our franchisees and making franchising decisions based on what's best for our customers.

Our Vision:
From One Store...To Global Leader
Our reputation for strength and stability is the key to success in today's complex retail environment. Franchisees receive a turnkey operation, while our international partners receive assistance with design and layout of stores, and construction, where necessary. In addition, professional training programs help the franchisee operate his store up to the system's standards.
Locations are carefully monitored and supported, with numerous programs in place to maximize sales and profits. The Head Office's in-house franchisee services include real estate, marketing, construction and promotional assistance. New in-store merchandising materials are developed by the finest creative marketers in the foodservice business, as are techniques for demonstrating to the consumer that they are receiving the freshest, first quality ingredients.
In addition, a very active R&D department is committed to developing innovative new products prompting customers to return again and again – keeping Yogen Früz ahead of the competition.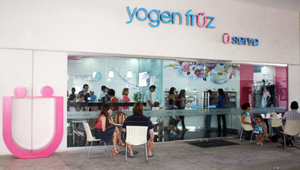 The Benefits of a Yogen Früz Franchise:
Brand recognition: Yogen Früz has captured 80 percent of the market share in Canada, with outlets in over 42 other countries around the world. Yogen Früz is positioned as a healthy and nutritional product, capturing a broad segment of today's health conscious consumer.

Marketing: New product roll-outs, cross promotions, banners, collateral, P.O.P advertising, Grand Opening advertising
Assistance with: Site selection, floor plan and layout consultation; training and start-up; operations manuals; ongoing support
Cost-savings: Pre-packed portion controlled yogurt slices means zero percent waste factor, national chain purchasing power, simplified distribution network
Increased Sales: Added merchandise will provide new products and increase sales.
Competitive Advantages of the Yogen Früz Franchise:

Established franchise and license models

Proven routes to market/established channel profit streams

Fully tested operating model refined over 27 years and utilized in numerous countries

Extensive choice of operational location, adaptable to most environments

Low start-up capital with pre-determined set-up costs

Zero waste as ingredients are frozen with 1 year shelf life

System flexibility/simplicity that is component based, space efficient, set sizes

Simple/efficient production
Find out more about Yogen Früz by submitting the form to the right.