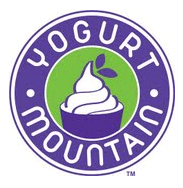 America's Favorite Yogurt Store™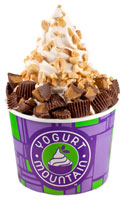 Yogurt Mountain stores are the ultimate self-serve frozen yogurt experience featuring 16 rotating flavors of delicious, authentic frozen yogurt and over 50 toppings. All of our Yogurts are fat free or low fat and feature probiotics, which can help promote a healthy digestive and immune system. They're also a great source of protein and calcium.
About Us
Yogurt Mountain welcomes you to a brand new frozen treat concept unlike anything you've ever experienced.
With cup in hand, proceed down our self-serve mosaic wall, mixing any of the authentic flavors of yogurt and sorbet.
Flow to the topping bar and crown your selection with the freshest of fruits, cereals, nuts, candy, and sauces.
Predetermined portions are a thing of the past! Since you pay by the ounce, you can have as little or as much of everything as you want!
Franchising
Basic Fees:
Franchise Fee: US$30k per store
Royalty: 6% of gross revenue
Advertising fund: 2% of gross revenue
Approximate build out expense: US$350k and up
Applicants must meet these basic requirements to be considered for a Yogurt Mountain™ franchise:
Ability to positively foster and comply with Yogurt Mountain brand culture
Liquid Assets around US$250k
Net Worth around US$500k
Business ownership experience and/or business management experience
Employee supervision experience
A heart for service and community
Desire to ultimately operate multiple store units
Testimonials
"Yogurt Mountain is a first class company that is on the cutting edge of the frozen yogurt industry. I was attracted to Yogurt Mountain by the quality products they offer as well as the corporate support structure they have instituted for their franchisees. With innovative techniques, progressive leadership and a market that is receptive to great frozen desserts, I believe Yogurt Mountain will continue to grow and lead the way in a challenging economy."
Mark Sessions- Franchisee, Yogurt Mountain - Tiger Town
"Yogurt Mountain will do all they can to make sure you have a successful operation."
Todd Lee
IMPORTANT: For those reading this advertisement, and subsequently wanting additional information about Yogurt Mountain opportunities, please complete the form to the right. With our receipt of your information, we will be in contact with you almost immediately to verify with you the information you have submitted. Following the verification process, you then will be contacted by Mr Jack Rotan, an affiliate of Yogurt Mountain a professional consultant, who will give you more information about the Yogurt Mountain business opportunity with no cost or obligation to you. Thank you for your interest.