WE DIDN'T INVENT DRY CLEANING. WE PERFECTED IT
ZIPS did not invent the consumer garment care business; we perfected it. The garment care business is a highly fragmented, 20 billion dollar a year industry. 98% of the competitors are mom-and-pop small businesses. The industry has been very responsive to our nationally branded chain, and we have proven that demand exists. ZIPS offers a suite of services and a value proposition that consumers respond positively to. If an opportunity to create a successful business appeals to you, it is time to become part of America's first national garment care brand. New territory is open for development. Call today and get ready to clean-up!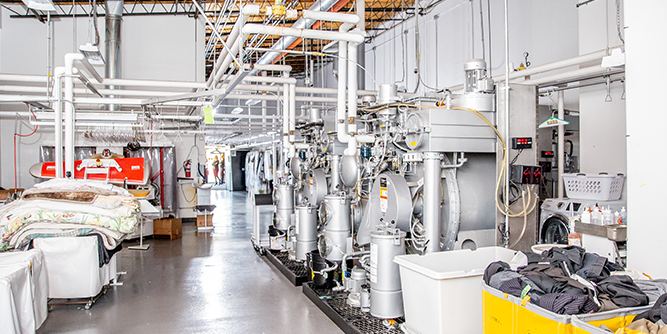 UNBEATABLE BUSINESS MODEL
ZIPS has unbeatable prices, typically 60% lower than our competitors. Our 'In by 9 out by 5' guarantee creates unparalleled customer service and contributes to a superior business model for owners. Our low-cost concept means high-volume demand for our garment care services, generally cleaning up to 4X the amount an independent operator can.
High volume, on-site cleaning
Professional service, unparalleled quality at unbeatable prices
5 businesses in 1 (dry cleaning, pressed laundry, Laundry By ZIPS, alterations, and households)
Simple, easy to communicate consumer proposition
Environmentally friendly
Streamlined, proprietary process
ACCOUNTING MADE EASY
We operate our business with no receivables, no disposable goods, and low variable costs. That means never having to chase down money and limited overhead.
Proven concept (0% failure rate)
Great Investment with a very respectable sales to investment ratio
Year-round demand
Low cost of goods sold creating a significant profit opportunity (No disposable goods, no receivables, low variable costs)
Pre-paid model with no receivables
Average Unit Volume of Mature Store FDD 2019 $1.2 Million Annually
Pre-COVID 2019 Net Income +32.5% of Net Sales Per Store
Drop Stores Offer Superior Sales opportunities
FRANCHISEE CULTURE
Our franchisees agree, we're all in this together and always willing to lend a helping hand to one another. Our leadership team is accessible and highly engaged in your success.
Unlike other franchises, you actually have a vote on the direction of the business and brand
Highly engaged brand ambassadors in sales, training, and marketing
Over 300 years combined industry experience
250 million garments processed
Extremely loyal customer base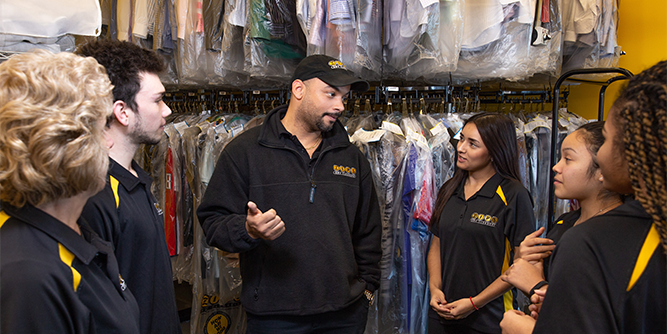 HANDS-ON TRAINING & SUPPORT
Our comprehensive training program assures that regardless of your background, you will know the ins and outs of every aspect of your business. ZIPS assures that our franchisees receive periodic training and continue to fine-tune their operations.
AN ESSENTIAL BUSINESS
ZIPS are always open. Dry cleaners are considered an essential business because our cleaning process kills 99+% of bacteria on garments. When other traditional franchise organizations struggled to navigate through the pandemic, our stores all remained open.

CLAIM YOUR TERRITORY NOW
ZIPS is poised to grow with over 250 new store commitments on top of our 68 locations in operations today. ZIPS is a concept that succeeds in any market.
No major competition
Highly fragmented industry
Multi-unit focused growth
Please ask about the markets today available nationwide. Please see the availability map on discover.321zips.com
ZIPS Franchising (ZIPS Dry Cleaners) Franchisee Testimonials
"My units are performing well and we're really happy with the results we're getting. Our first location broke even within the second month of us being open.
Beth Flynn
Multi-Unit Franchisee
"I will break a new market with ZIPS anywhere. Because I think it's such a strong business model, I don't think it goes through the strife that I've gone through with other franchises. ZIPS is definitely a disruptor so I definitely think this is the type of brand where you want to break a new market. I love ZIPS and all I want to do is open more stores as fast as I can."
Tiffany Hawkins
Multi-Unit Franchisee
"I'm not new in business. I was a Burger King franchisee for about 30 years. I was selling this business and looking for another franchise opportunity. I chose ZIPS strictly because of the financial numbers."
Bashir Shams
Multi-Unit Franchisee
"You don't clean as many garments we have without a strong process. The biggest thing is just trusting the system and sticking to the business plan."
Bart Casiello
Founder, Multi-Unit Franchisee
Contact Franchise Sales at 717-495-7995 or by email at aparikh@321zips.com