60 Years of Fast, Fresh, Drive-Thru Convenience
More than 60 years ago, Farm Stores started out as Florida's first drive-thru neighborhood store offering fresh-baked bread, milk, eggs, and other household staples in a conveniently located drive-thru. It evolved over the decades and now we have turned it into a national network of America's fastest, friendliest, freshest neighborhood drive-thru stores. The model is solid, adaptable, and built to be highly localized.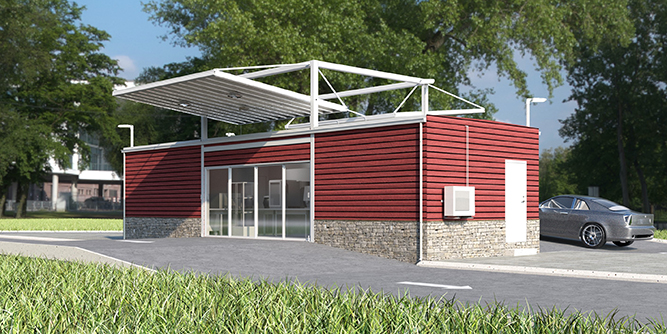 More Relevant than Ever
In a post-coronavirus world, many businesses struggle to remain relevant, but the pandemic made Farm Stores more relevant than ever. Business is booming for our stores as we continue to innovate and provide ways for families to enjoy safe, contactless delivery for all their goods. Opening new stores in states from Arizona to Connecticut and want the best franchisee partners we can find to operate them.
A Different Type of Franchise
Our focus is on our strong commitment to families and communities, and we see families and communities through the eyes of our franchisees. We believe the path forward to success as a franchise is to make our franchisees really feel like stakeholders in the brand. We listen to their input and adopt suggestions and best practices. We not only allow localization of products and menus, we actually encourage it. It's part of our model.
The Experience – From Here to Opening
Thank you for considering us as you make this big decision to become a business owner. The process of becoming a franchisee is fairly standard and will involve a few conversations, hopefully a meeting, a review of the FDD, and all the usual formalities of verification as we get to know each other.
But we think you will like our experience. You're the driver, and we can go as fast or slow as you'd like to. We will definitely enjoy the ride together.
Experience & Support
We are deeply experienced as operators, not just franchisors. We have the most experienced management team in this business, and it isn't even a competition. We started with our own long experience managing a very large chain of Farm Stores drive-thru stores and in 2020 we acquired all the assets of Swiss Farms, a similar chain in Pennsylvania. The most important asset was their management team, who are now part of the Farm Stores family.
This combined team of experts is here to help new franchisees from the first weeks of becoming a franchisee through your grand opening and on into the distant future that will (hopefully!) include additional stores for all franchisees.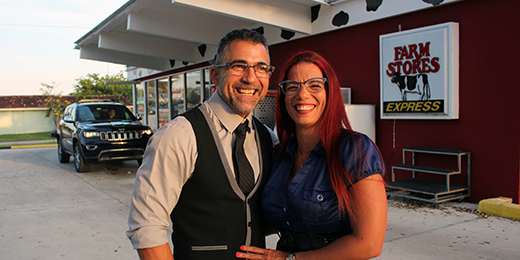 Build-To-Suit Development Options
Our process for building and opening new stores is efficient and effective. We use pre-fabricated modular construction wherever possible to save both money and time. This is available to you whether you elect to build your own store, use your own development partner, or use one of our development partners in select markets.
Our development partners are available to build you a store in most of our markets, from Arizona to Connecticut. If you elect to use this build-to-suit option to get into your store, you will be part of a team working together on site selection and construction.
Supplier Management
The golden rule of retail and foodservice is products must always be in stock!
Keeping a grocery-convenience-bakery-coffee shop store fully stocked can be a challenge, but we're here to show you how to manage it easily. We set up distribution and supply networks for all stores in all markets and help you open accounts, make your initial orders, and teach you how to manage inventory and suppliers.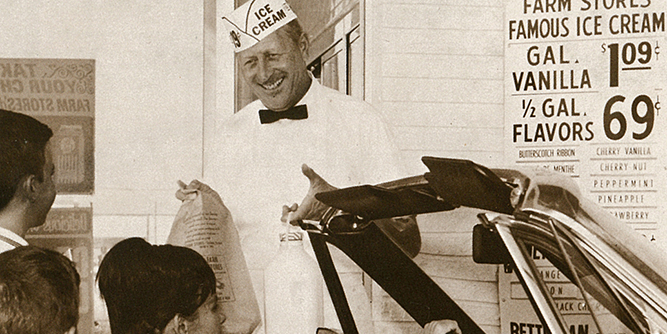 SIDEBARS
The Menus
Breakfast: coffee and breakfast on-the-go fresh from the in-store bakery
Groceries: just the most essential and frequently needed things, like milk, bread, eggs, coffee, sugar, cereals, pet food, and – yes – toilet paper.
Snacks: after school, or on your way around town. Milkshakes, hot cookies, fresh baked pastries, and get a bottle of water, a Gatorade, an energy drink, whatever you want.
In-store bakery and juice: all stores have an oven and a juice machine. These are the differentiators. Fast and Fresh! in a way nobody else can.
Lunch or Dinner: this is the next phase we are rolling out right now. Some deli favorites and dinner meals to grab on the way home.

We provide:
Training from site selection through your grand opening and beyond
Build-to-suit store development through our real estate development partners.
Supplier and distribution networks so you don't have to worry about it.
Constant technology development and support.
Marketing support and training. Signage, social media, print, and PR.
An operations team you can lean on, with literally the most experienced team there is in our business.
A family of like-minded business owners focused on being a constant destination for families in their neighborhoods.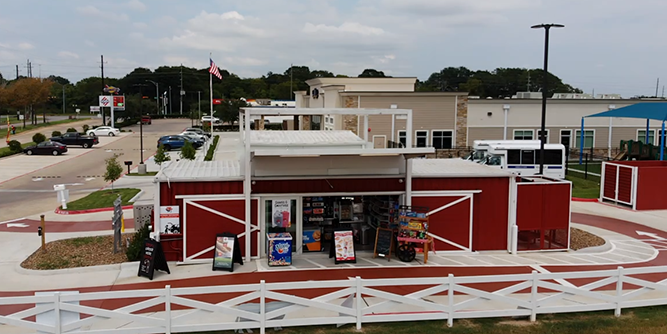 Before You Take a Roll in the Hay, We'd Love to Answer Your Questions:
Farm Stores provides a unique neighborhood experience. A combination of grocery store, bakery and restaurant, we give you the freshest products in the most convenient manner: the equivalent of a drive-thru supermarket express lane.
We have been around for nearly 60 years and are proud to be the first and longest running drive-thru grocery store.
As a franchisee, you are running a small, easy to build store that will be the center of your neighborhood.
How much is the investment?
It starts from $100k to over $500k, as there are many options and possible scenarios. That's why we want our franchise team to talk to you first, so we can find the best fit for you.
Typical total initial investment will be $150k to $200k
Initial Franchise Fee: $25k for first store, discounts for additional stores
Area Development Fee: $10k – fully credited towards second and third units
Site Selection Fee: $2,500 for a single unit
Store Development Fee (if we build-to-suit): $45k
What are your support services?
Virtual training courses
Classroom training in Pennsylvania
In-store training once your location is ready.
New store team will help you set up and get open.
Advising on your store marketing from grand opening to daily promotions.
What products do you sell?
Milk, butter, eggs, cheese, deli meats, snacks, paper products, coffee, smoothies, fresh baked bread and pastries, fresh squeezed orange juice (We originated in Florida, after all ) alcohol, wine and tobacco. Plus, local delights that fit right in your neighborhood. It's all you need in convenience at grocery store prices.
How do I know this is the right fit for me?
We take you through our 7-step process to know that it's a right fit for you and us. We believe buying a franchise is a huge deal, and we want to meet face-to-face with our prospects before asking them to sign on the dotted line. If it's not a good fit, both parties go their separate ways with no hard feelings- because that's the farm stores way.
Step 1: Request more info. It's right here on our website: http://www.farmstores.com/franchise/learn-more/
Step 2: Telephone Interview – we want to hear more from you and answer any more questions you may have.
Step 3: Complete a personal profile – let's get to know you!
Step 4: Receive and review our Franchise Disclosure Document – Time for paperwork!
Step 5: Join us for a Discovery Day - You will come to our headquarters in beautiful South Florida for Discovery Day. This is a free, informational session for qualified franchise prospects.
Step 6: Taking the next step – our final due diligence!
Step 7: Making the decision. It's time moooove forward! Now let's choose your location!