Let Epoxy Pave the Way for Your New Business Venture
About Us
Scorpion Coatings is a family owned and operated business that has been providing premium protective coating products to thousands of customers around the world since 1996. Originally developed as a better truck bed liner, Scorpion Coatings is an impenetrable polyurethane with a wide range of uses and applications.
Scorpion Pro is focused on the garage floor market due to the countless opportunities that are in the $800 million dollar home improvement market. There is a shortage of installers in most communities for both residential and commercial business installations. We designed this program to get installer/owners earning money quickly, in a market that is untapped. Join Scorpion Pro for only $15K. With a low cost of entry and high income potential, this is a perfect opportunity for any entrepreneur that wants to be in control of their own financial destiny
Thank you for your interest in our exciting Scorpion Coatings business opportunity. Once you've reviewed the information below, we think you'll agree that Scorpion is one of the best business opportunities.
We can put you in business with an easy to apply and superior product that can be used for far more than truck beds, for only $15,000! And, unlike other systems that can take years to recoup your initial investment, your $15,000 includes product, equipment and training, and the investment can be recouped in as little as a few months.

Why Scorpion Pro?
Training and Support- Scorpion not only provides the materials but also provides epoxy training & support.
Protected Territories- With Scorpion we offer our customers the option to own their own sales territories.
Low Investment Opportunity- Scorpion provides a super-low business investment opportunity package
Marketing Assistance- Scorpion offers our Pro Customers help to grow their business with marketing assistance.
Training Support
6-Figure Income Potential
Low Cost Entry Allows You To Recoup Your Investment Quickly.
Competing systems require initial investment of up to $50,000 (sometimes more) which can take years to recoup. You can become a dealer of the #1 high-abuse Spray-On-Coating ever produced with an initial investment of only $15,000! That can be (and is often) recouped in weeks not years and includes equipment, training and enough product to spray 12 truck beds!
Incredible ROI Potential.
By joining as a part of the Scorpion Pro Program you will have the opportunity to make a nearly 6 figure income only working a couple days a week. You receive enough product to complete 10-12 truck beds (based on 2 – 3-gallon applications.) That should generate up to $7,200 (@ $600/job) which would leave only $2,800 of your initial investment to recoup. Based on $350 gross profit/job and 2 jobs/week, your entire initial investment would be repaid in less than 8 weeks. With that type of ROI potential, it's easy to see why Scorpion Coatings is such a fantastic opportunity!
High Quality & Long Lasting.
Scorpion Coatings comes with a lifetime warranty which means it's a product you can depend on. Once applied (properly) comebacks are almost unheard of which means you're not wasting time and money redoing previous jobs.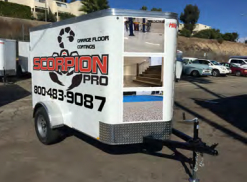 Safe.
Scorpion Coatings has very little Isocyanate's and low VOC's. Furthermore, Scorpion Coatings is applied at 20-90 PSI so it does not require atomization to be applied which means in most places and unlike competing products, you will not have to install/maintain a paint booth in most areas.
Earn More By Going Mobile.
Scorpion Coatings is fully mobile with little additional requirements. Other systems require massive amounts of 220-volt power, air hoods, etc. Going mobile provides huge additional profit opportunities!
Unmatched Colors & Textures.
Virtually any color is possible and all are UV stable! That's a huge advantage considering not all trucks are black or grey. Additionally, the array of potential textures and finishes open a world of revenue possibilities. Scorpion Coatings is the highest quality, most UV stable and cost efficient color bed lining system in the world!
Convenient & Efficient.
No need to load/unload/handle/store/ship 55 gallon, 600 pound drums. Scorpion Coatings is packaged in easy to use disposable pails so there's no need for a loading dock, a barrel truck, a forklift or to handle/warehouse huge drums of dangerous materials. Also, Scorpion Coatings products take one hour to set so, unlike other products, you have time to pull tape. There's no need to waste time or money cutting the lines with razor knives or using expensive piano wire tape to achieve the finished line.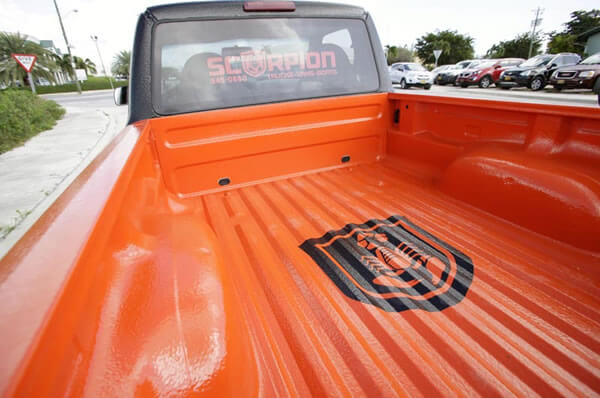 Unmatched Variety Of Product & Flexibility Means More Profit For You!
Scorpion Coatings can be applied to almost any substrate; steel, wood, concrete and more (usually without priming!)
Access to many different Scorpion Coatings products and programs including full automotive tint and paint protection and, for no cost other than the product itself, over 16 other profit generating products.
There are no hoses to purge so you won't have to bury the preceding color. That saves your customers money which means more customers and profit for you!
Protected Territories
In order to maintain a protected territory, a Scorpion Pro Dealer must purchase an amount of material from Scorpion that is equal to 10% of the territory population. For example, if a Pro Dealer wanted 7 counties that made up 590,000 people, that dealer would need to purchase $59,000 per year to maintain their protection. The first year is prorated from whenever you start and you only have to meet 75% of that purchase price. Every year after that you would have to meet the 10% in full.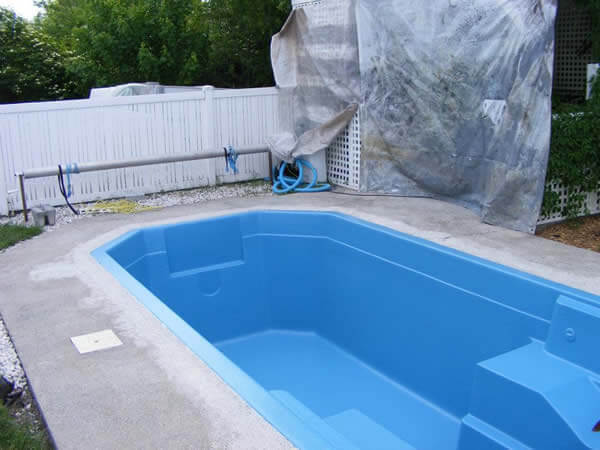 Ideal Candidate
We're looking for franchise owners who are outgoing and have sales, marketing, and/or management experience, and who are results oriented. A person who can build relationships and who has the motivation to excel! You must have a minimum of $15k in liquid capital, and be ready to make a commitment. Ideal for already operating automotive services related businesses such as: body shops, car sales dealerships, construction companies, architectural firms, rv sales, boat sales, pool installers, etc. Only limited by your imagination as this product is able to be applied to most substrates.