Staymobile Cell Phone Repair
Staymobile provides the mobile device solutions necessary for education, enterprise and consumers to protect, sustain and enhance mobile needs
---
| | | | |
| --- | --- | --- | --- |
| Cash Investment: | $100,000 | Investment Range: | $98,000 - $164,000 |
| Franchise Fees: | $35,000 | Training & Support: | Yes |
| Franchise Units: | 8 | Financing Available: | Third Party |

The Staymobile Concept
We provide the mobile device solutions necessary
for education, enterprise and consumers to protect, sustain and enhance mobile needs
Current Landscape
Highly Fragmented (some would say "crowded") space; very few organizations with any scale

Limited, repair centric positioning providing mostly cosmetic repairs; typically some form of medically affiliated branding (i.e., iHospital, CPR, CellDoctor, Digital Doc, etc.)

Predominately small, local operators – present in most markets, but typically established with low-cost presence
Staymobile Differentiators
1. Brand Positioning
a. Consumer Lifestyle & Business Services Company: unique, comprehensive service offering for both consumers and businesses poised to serve the broader market
b. Less emphasis on repair as a stand-alone service but offering all levels of repair services (from the simple to the complex) on most mobile devices (i.e., smartphones, tablets, laptops, game systems)
c. Malleable branding with the capacity to nimbly evolve as the mobile arena continues to develop
2. Three revenue sources vs. singular repair-centric model

a. Repair Services – all forms of electronics with lifetime warranty; focus on quality service delivery
b. Accessories – capitalizing on the desire to enhance the mobile lifestyle with additional merchandise beyond simple cases and ear buds
c. Management, Security and Protection Services
i. Warranty products for devices in partnership with leading provider of insurance products for K-12
ii. Data and Identity protection
iii. SaaS Business Services model for K-12, SMB and Enterprise environments
- Mobile Device Management Services: security, protection and inventory management tools delivered in partnership with leading provider
- Services to facilitate the "bring your own device" (BYOD) movement in corporate IT/Mobility departments of all sizes
3. Infrastructure and Support
a. Seasoned and pioneering management team with vast experience in the consumer electronics and business services arenas
b. Established supply chain delivering OEM quality replacement parts
c. Systems in place to facilitate the management all aspects of the operatio
d. Real estate support for site selection and leasing
e. Comprehensive training program for each component of the business model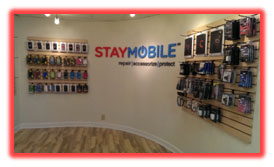 Staymobile Franchise Concept by the Numbers
License Fee

$35,000 for the initial license

$20,000 for the second or more licenses

Royalty Fee

National Advertising Contribution
Staymobile Franchise Features and Benefits
Low cost to enter

$95,000 to $165,000 driven by local nuances in real estate and merchandising approach; includes license fee(s) and 90-days of operating capital

Typical unit gets to market at the low end of the scale

Low monthly royalty burden

Exclusive territory built around a population base of +/-200,000

Flexible site strategy

Small footprint: can be as little as 400 sq ft

Store-in-a-store concept

Military base presence

Unusually fast ramping business

Possible to achieve positive cash flow very quickly due to pent up demand in most markets

High margins

Ubiquitous customer base

Small Staff (usually 3 FTEs at launch)

Open 50 hours per week as opposed to normal "retail" hours; closed on Sundays

Comprehensive training and collaborative environment for all technicians
---
Franchise User Reviews
Loading... please wait...
---
Browse Related Franchises by Industry
Submit Now to Get a FREE eBook - Read More
Transitioning from Employee to Entrepreneur
"
... a step-by-step guide to help you make the transition from the employee culture to that of the entrepreneurial world. This book is a complete toolkit and user's guide for success for everyone who dreams of starting his or her own business.
"
Receive FREE Franchise Info
About Staymobile Cell Phone Repair
Selected Companies:
Loading request list...
You Contact Information