Join the largest Career Ownership Coaching® organization in the country. For close to 40 years, The Entrepreneur's Source® (TES) has provided hundreds of thousands of people with the answers and the opportunities they needed to improve their lives and explore vehicles to help them achieve their income, lifestyle, wealth, and equity goals. We're inviting aspiring entrepreneurs like you to join in that legacy.
What Our Coaches Enjoy About Their Business:
Excellent Earning Potential
Work from Anywhere
Meaningful and Satisfying
Low Investment and Low Overhead
Flexible Hours
The Industry's Best Training and Support
No Inventory
No Employees
Powerful Marketing and Brand Awareness Tools
IT Support
We're ranked as a top franchise by our franchisees.
TES was recently recognized by Franchise Business Review as a franchisee satisfaction award winner. On our latest franchisee satisfaction survey, we had a 90.3% participation rate from our franchisees.
Some of the areas where we really stand out:
88% of our franchisees rate TES innovation above average, exceeding other franchise brands in this area by 17%.
84% of our franchisees strongly agree or agree to enjoying being part of the organization.
When it comes to our franchise community, 96% of our franchisees agree to feeling supportive of the brand.
Watch the video to learn more.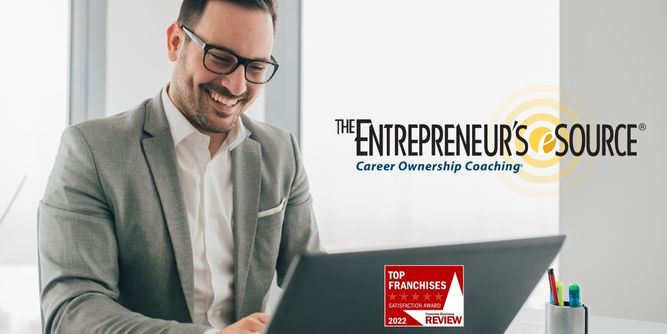 What You Do
As a franchisee with TES, your number one priority is to help your clients reach a point of clarity by creating a "safe space" for them to explore business ownership through our proven coaching methodology. As a Career Ownership Coach®, you eliminate concerns your clients encounter during their career transition by guiding them through an education, awareness, and discovery experience to achieve self-sufficiency.
How You Make Money
As a Career Ownership Coach®, once your client reaches a point of clarity, our franchise members pay generous placement feeds. Our franchise members greatly value our educational, non-sales-based coaching system. TES has created successful partnerships with our franchise members by presenting them with well-informed clients who have the tools and education they need to make that change and feel prepared for business ownership.
Qualifications
The most important qualification to becoming a TES Career Ownership Coach® is the desire to develop relationships where you can create a safe space and help your clients look at options outside of traditional employment. No experience required. Our coaches come from many different backgrounds. TES is an excellent opportunity for those individuals who are proactive, results oriented, thrive on cultivating relationships, and seek to solve problems.
Training
At TES, training is not a single event, but a dynamic, ongoing educational process throughout your career with us. Our training program starts the day you join our team. After completion of our pre-onsite education, you will begin your 90-day training program. This includes a one-week training event at our Performance Enhancement Center, weekly virtual curriculum, as well as a 26-week jumpstart program with weekly activities set for new franchisees. Your success is our only business.
Marketing
TES has world class marketing, digital innovation, and client engagement center to keep our coaches engaged with the 27 million Americans in career transition.